Care UK adds spice to Fair Kitchens movement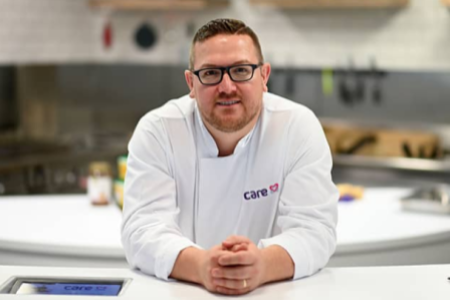 Care UK has become the first care sector organisation in the world to join the Fair Kitchens movement that aims to make catering team happiness as important as diner satisfaction.
The provider's hotel services manager James Clear (pictured) will lead Care UK's contribution to #FairKitchens by sharing lessons and success stories from his colleagues in the care sector as to how to build a respectful culture in which people are valued and treated fairly.
Care UK will also join discussions on wider issues affecting the industry's future; such as attracting talent.
"When I joined Care UK I was inspired by food & services director, Jon Bicknell's vision of 'Dining with Dignity' which ensures the dining experience for our residents is the best it can be. I have learnt that to deliver this you need an engaged, motived team," said Clear.
"I have learnt that to deliver this you need an engaged, motived team," he added.
#FairKitchens said it was looking to work with the care sector because of its unique working environment and the lessons it can offer operators in other areas of hospitality.
It highlighted the freedom that chefs in care often have over menus and the satisfaction that comes from creating person-centred service for individual residents as plus points.
The sector was also praised for offering more sociable working hours and appealing to a diverse community of employees.
"There is a lot the catering industry can learn from the people centric way it runs its operation. I also think it is a brilliant opportunity to showcase the care sector as a place to work, especially in light of the pandemic," said Unilever Food Solutions executive chef and #FairKitchens ambassador Alex Hall.
"Sharing the stories and examples from Care UK could inspire others to consider it as an alternate career path."
Co-founded by Unilever Food Solutions in 2018 to inspire a healthier and more inclusive culture in hospitality, #FairKitchens now has more than 20,000 community members learning from each other's approaches and creating a more resilient and sustainable businesses in the process.
The long-term ambition is to make "Fair Kitchens" a point of preference, recognised by potential team members as good places to work and potential diners as an assurance mark of a high quality dining experience.
Those already involved in #FairKitchens in the UK include Hospitality Action, Hawksmoor, The Pilot Light Campaign, The Burnt Chef Project, Hospro, Craft Guild of Chefs, Healthy Hospo and So Let's Talk.
Started in the US, #FairKitchens has now launched in Europe, Africa, Australasia and the Middle East.
Other News
Featured Supplier

Intastop Ltd has been leading the way in the specialist fields of anti-ligature products and door and wall protection for over 20 years. This pedigree, combined with the company's commitment to new product development and leading edge innovation, ensures Intastop remains a leading manufacturer and supplier to the healthcare, public and leisure...