Style and safety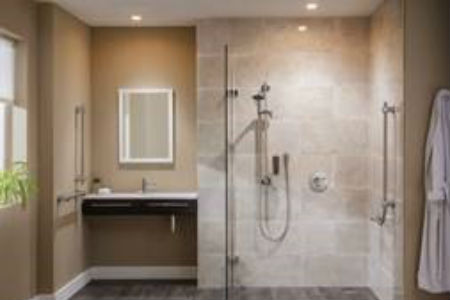 With multigenerational living on the rise, Triton Showers has launched the Elina Bar Diverter mixer shower - the first to integrate diverter technology into an inclusive showering option.
Featuring thermostatic, TMV3 accredited temperature control, and an automatic shutdown if either the hot or cold water supplies fail, Triton's new Elina Bar Diverter has been designed with user safety at the fore.
In a unique move from Triton, diverter technology, which was previously only used on mainstream mixers, has been incorporated into this care shower. The Elina Bar Diverter can, therefore, switch the flow of water between a large diameter fixed shower head and a five-spray pattern handset, adding luxury and versatility to the bathroom while remaining suitable for all of the family to enjoy.
With a chrome finish, this minimalist shower is the perfect addition to any modern bathroom, however, features such as tamper proof looped lever controls and clear flow and temperature markings are subtly included for added peace of mind. As required by the TMV3 standard, the temperature can be set internally at the desired level for each end-user which is ideal for homes with the elderly or very young. For busy families, the model is also easy to clean and requires minimal maintenance as the design prevents trapped dirt.
The Elina Bar Diverter is quick to install, with push-fit surface brackets included. A full five year parts and labour guarantee is also provided as standard.
Steve Saunders, technical manager at Triton, comments: "Making accessibility adaptations to the home can be a daunting prospect. All too often, care products are developed purely with functionality in mind, while forgetting that aesthetics are also important. In fact, an attractive product can actually help to make the transition easier by creating a bathroom which also keeps interior trends in mind.
"The introduction of diverter technology into inclusive showering, through the launch of our Elina Bar Diverter, is really exciting and strikes the perfect balance between style and substance."
Other News