Specialist delivers show highlight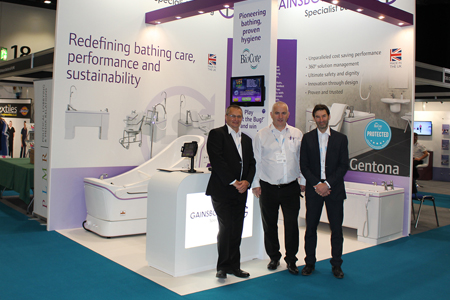 Gainsborough Specialist Bathing has successfully showcased its new BioCote antimicrobial protection at Health Plus Care, which took place from 28-29 June at Excel, London.
The Gainsborough stand and its sponsored Care Home Live feature were busy throughout the event with delegates keen to understand more about BioCote. This proven antimicrobial technology has recently been integrated into all Gainsborough manufactured baths including the Gentona, which was showcased at Excel.
For over 20 years BioCote has been proven to deliver 99.99% protection against harmful bacteria, mould and viruses such as Influenza H1N1, CRO and MRSA. This trusted and established worldwide technology now provides advanced infection control for bathers and carers – reducing the risk of illness and significantly increasing hygiene 24/7. This level of protection is a world's first in specialist bathing.
Many delegates at Health Plus Care, including NHS infection control nurses, commented that BioCote was an outstanding new feature. They stated it was perfectly suited to specialist bathing and offered a trusted solution to tackle current infection challenges.
Visitors were given free literature and the opportunity to win prizes with the 'Beat the Bug!' interactive game. This tablet based challenge was popular with visitors and reiterated the value of Gainsborough's new antimicrobial baths.
Malcolm Farmiloe comments: "Health Plus Care has been a success for Gainsborough Specialist Bathing with our BioCote presentation generating significant interest. As pioneers for over 30 years the integration of proven antimicrobial technology into our trusted bathing solutions has reiterated our commitment to care innovation. Both Gentona baths on display also drew in high numbers of professionals curious to learn more about their frontline benefits. Overall we received a healthy number of product enquiries and feedback from visitors was positive regarding our stand."
In addition to BioCote, Gainsborough demonstrated its latest Sentes reclining bath and the Gentona with detachable bather transfer chair. Both these reliable power assisted baths deliver significant cost savings in the care sector through operationally efficient designs. They reduce utility consumption, lower bathing cycle times and improve moving and handling. Coupled with 360-degree solution management, Gainsborough continues to be the preferred choice for specialist bathing that sustains dignity, safety and care.
Other News