Virtual biking tech breaks cycle of low physical activity and depression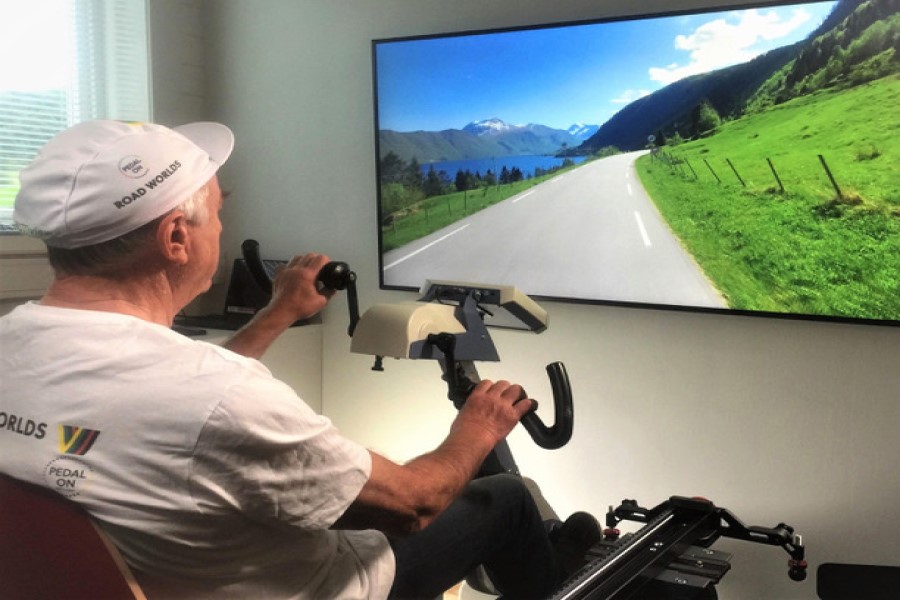 A new study has found that virtual cycling technology increases physical activity and reduces pain, anxiety, and depression in elderly people living in care homes.
The study, Combining physical, cognitive, and social activity for older people and people with dementia, was funded by Sport England and carried out by Motitech, a Norwegian health tech company.
It found that Motitech's 'Motiview' system led to 24 per cent of participating residents moving from 'inactive' to 'active'. The study reported a 14 per cent improvement in 'general state of health' alongside statistically significant reductions in anxiety, depression, and pain, as well as increased independence. Many of the reported improvements were still present three months after the study had ended.
Motiview consists of an exercise bike adapted for those with low functionality levels, complimented by a screen displaying video of local roads, plus accompanying music. The technology is used in almost 800 care homes across the UK, Scandinavia, North America, and Australia.
Taking place over a six-month period, the study's findings were partly based on questionnaires completed by 415 residents from 25 British care homes.
Commenting on the study, Motitech's market and business developer, Matthew Archer, said: "There are now around 500,000 care home residents in the UK and, over the last two decades, there has been a marked increase in disability and complex health problems. With an increasingly aged population, this trend is only going to continue and so it is clear that investment is needed into interventions that support proactive and preventative care.
"The results of this study show that immersive interventions like the Motiview, that combine physical, cognitive and social activity can achieve significant health outcomes, reducing pain, increasing independence and improving mental wellbeing for older people in care homes. Considering that this is a population that, by its nature, is unfortunately experiencing health deterioration all of the time, the improvements here are even more significant.
"With the study showing that the results are still felt by participants three months after the end of the programme, it is clear that engaging with interventions like this, even on a short-term basis, can have long lasting benefits for care home residents, staff and the healthcare system as a whole."
Other News
Featured Supplier

 
Access Health and Social Care are proud to have 25+ years of experience across social care, with software used in over 10,500 UK registered care locations, from national care organisations to small independents. Access manages over 160 million hours of home care and 200 million hours of residential care per year, with 25% of social care...
Upcoming Events
NEC, Birmingham
6th - 7th July 2022
National Exhibition Centre, Birmingham
Wednesday 12th October - Thursday 13th October 202
Epsom Downs Racecourse,
18th October 2022
Cardiff City Stadium, Cardiff
15th November 2022