DDC Dolphin biodegradable Hygenex range wipes out competition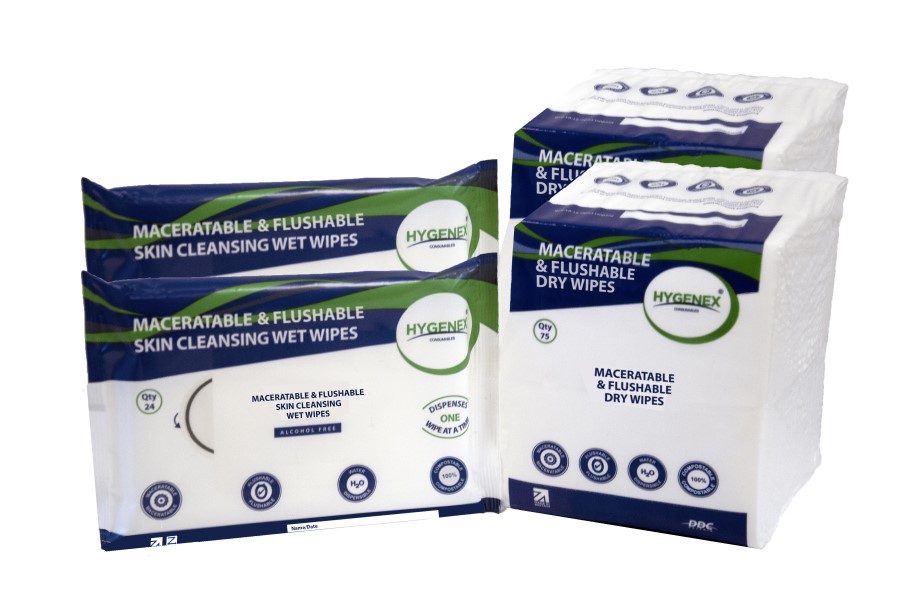 DDC Dolphin is highlighting its Hygenex range of wet and dry wipes that can be disposed of in bedpan washers, macerators, slop hoppers or toilets.

Furthermore, they are made from 100 per cent natural materials which will quickly break down into non-toxic components, causing no harm to the environment or plumbing systems. They are 100 per cent biodegradable, compostable, dispersible, flushable and maceratable. While many competitor products can claim that they are biodegradable, this simply means they will eventually break down into smaller pieces by natural processes. In reality, what this means is they decompose into microplastics, further polluting our already dangerously damaged natural environment.  Using non-flushable cleansing wipes in care homes and hospitals is a dangerous false economy.  Low-grade wipes that cannot be macerated or flushed will block drains and damage expensive sluice room equipment leading to machine downtime and a higher risk of infection.   Care home staff having to separate non maceratable wipes from maceratable medical pulp and non-flushable wipes from bedpans creates more contact and even higher infection risks. Wastewater companies are urging people not to throw non-flushable wipes down the toilet because of the widespread damage that they do to the water system helping to create huge 'fatbergs' that block public sewers. With DDC Dolphin's Hygenex Maceratable and Flushable wipes, you do not have to worry about any of this.   They are fully tested and compliant, passing all seven flushability tests set by the European Disposables and Nonwovens Association (EDANA) and International Nonwovens and Disposables Association (INDA). Hygenex dry wipes are all-purpose wipes suitable for general surface and skin cleansing. They are soft when dry, highly absorbent, yet strong and smooth when wet.   Hygenex wet wipes are skin cleansing wipes for use on hands, body and face.  Made from all naturally-derived ingredients, dermatologically tested and hypoallergenic, they are suitable for all skin types and all ages from new-born to the elderly, including those with sensitive skin.   Designed with all personal care and cleaning tasks in mind, Hygenex wipes are ideal for use in hospitals, care homes, nursing homes and domiciliary care. To find out more about our Hygenex range of wipes or to order a sample click here. 
Other News
Featured Supplier

 
Access Health and Social Care are proud to have 25+ years of experience across social care, with software used in over 10,500 UK registered care locations, from national care organisations to small independents. Access manages over 160 million hours of home care and 200 million hours of residential care per year, with 25% of social care...