WATCH: Huntington & Langham Estate completes dementia care extension
A Surrey care community is celebrating the completion of an extension to its dementia care facilities, which will allow it to provide 11 extra bedrooms for new residents.
The Huntington & Langham Estate in Hindhead is now in position to welcome new residents at Langham Court, the estate's specialist dementia offering, with four rooms already having been reserved by prospective residents.
Alongside the new bedrooms, three additional communal areas have also been added as part of the renovation work, while the incorporation of a new wheelchair friendly road now allows for better access to more areas of the estate, including its animal grazing fields, lake and parts of the woodland.
The extension has been fully signed off by the Care Quality Commission (CQC) and is now officially certified as meeting the requisite standards.
Langham Court operates in a household model, and is made up of three distinct households, that all have their own lounge and dining area, offering small-scale living which act as self-contained communities.
Residents within these households tend to gravitate towards the shared areas in the day in much the same way as they would at home, to dine together and spend time with one another, but in a way that avoids the mass dining experience of many other care homes.
The new extension adds an additional household of eight residents, with three further bedrooms also added to the lower ground floor.
Three day rooms have been added to an existing part of Langham Court, which serve to offer residents an alternative place to spend their day, allowing them to take in a different outlook over the fields and the wider estate as they see fit.
"It's been a concept for years, so to be able to physically enter is wonderful. It's turned out so much better than I'd ever hoped," said Huntington & Langham Estate director Charlie Hoare.
"It offers a calmness and a great sense of wellbeing, with views of the South Downs and the sheep grazing on the estate providing a real feeling of peacefulness and contentment," he added.
The Huntington & Langham Estate is made up of two specialist family-run care homes that offer residential, nursing and dementia care set in 30-acres of garden and woodland.
Other News
Featured Supplier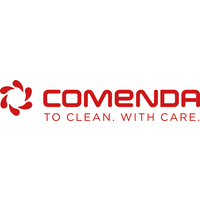 At Comenda we have been designing and manufacturing professional dishwashers since 1963. "Hygiene" and "Safety" are our DNA and have been simply our core objective for almost sixty years. Perfect sanitisation is granted across the Comenda range, allowing a significant reduction in the amount of microbial life on the crockery and guarantee...
Upcoming Events
The King's Fund, Cavendish Square, Marylebone, London W1G 0AN
22nd June 2021
Liverpool, Aintree Racecourse
13th July 2021
Glasgow, Hampden Park Stadium
9th September 2021
Birmingham, NEC
15-16 September
London, Epsom Downs Racecourse
19th October 2021
Cardiff, Cardiff City Stadium
9th November 2021