EcoTech EcoClenz wipes the floor with Covid
EcoTech is highlighting the importance of care homes having the confidence in its products during the pandemic with infection control at the highest levels of priority.
The company said EcoClenz range of alcohol-free disinfectant wipes, gels and surface disinfectant sprays not only kills enveloped viruses like Covid-19 but also the areas that have been cleaned have a good residual efficacy.
That means wiped surfaces using EcoClenz remain effective for up to 30 days on these surfaces - important for areas in the home that may not have a regular clean down.
"It is so important in closed confined areas such as care homes that both staff and residents have the best level of protection that can be provided and this is why - in addition to our disinfectant range - EcoTech can supply an almost one-stop shop to include a three-ply FFP Type 1 face masks tested in the UK to medical standard BSEN14683:2019," the company said.
Over 90 per cent of EcoTech's products are manufactured at its Coventry facility, which is all under one roof of just under 100,000 square feet. Orders can be placed via the website at www.ecotech-europe.com for just in time quantities and additionally for larger mixed quantities are available from it national network of distributors.
Telephone 02476 471894 Email: [email protected] Web ordering: www.ecotech-europe.com
Other News
Featured Supplier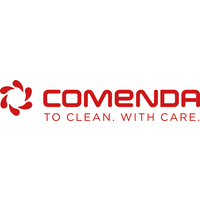 At Comenda we have been designing and manufacturing professional dishwashers since 1963. "Hygiene" and "Safety" are our DNA and have been simply our core objective for almost sixty years. Perfect sanitisation is granted across the Comenda range, allowing a significant reduction in the amount of microbial life on the crockery and guarantee...