Velux Commercial reaches for the skies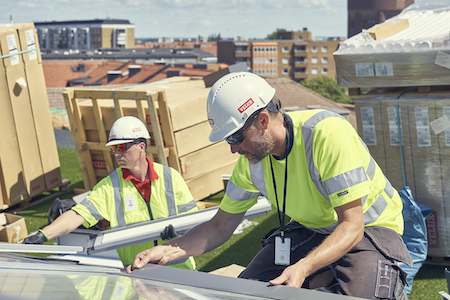 Velux Commercial is highlighting its product range of daylight and ventilation solutions for care homes.
The product programme consists of four main categories: dome rooflights and flat glass rooflights, continuous rooflights, glass roof systems, and smoke natural ventilation.
The dome rooflights and flat glass rooflights are a complete range of prefabricated, ready-to-install domes and flat glass rooflights provide single sources of daylight and fresh air as well as smoke and heat exhaust ventilation.
The continuous rooflights are economic, continuous rooflight systems that provide large areas of natural, diffused light as well as comfort and certified smoke and heat exhaust ventilation options in a lightweight construction.
Glass roof systems are reliable glass systems with design flexibility to enable optimal daylight and fresh air as well as smoke and heat exhaust ventilation to support occupant wellbeing.
Smoke natural ventilation solutions are built for smoke and heat exhaust ventilation, comfort ventilation and daylight and heat control ensure safety and occupant wellbeing.
"With our broad product programme and our expertise within daylighting, comfort and smoke ventilation, and not least service and maintenance, we offer our support to customers throughout the entire construction process" said Velux Commercial senior vice-president Nicolas Limbach.
In 2019, the Velux Group launched the Velux Commercial brand, established the Velux Commercial division, and started integrating former JET, VELUX Modular Skylights and Vitral people, products, and businesses.
Today, Velux Commercial operates as one company employing around 1,100 people working in eight production sites, national sales offices in 11 countries and in central support functions.
Other News
Featured Supplier

As experts in Wireless Nurse Call Systems, and in particularly call bell systems for care homes, we'll work closely with you to understand the unique nurse call needs of your care home(s). We'll provide a tailored nurse call solution that allows residents to feel safe and provides key cloud reporting data to aid you in your role of managing a safe...