Girbau, HeiQ knit together to 'viroblock' care textiles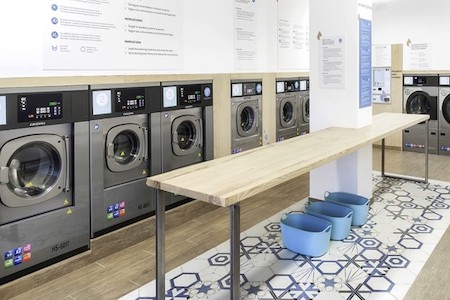 Swiss textile technology outfit HeiQ is partnering with Girbau to offer a virus-killing laundry process for care home clothes, sheets and towels.
Spanish professional laundry system maker Girbau will offer HeiQ Viroblock NPJ03, an antiviral and antimicrobial textile technology that can be sprayed on textiles.
HeiQ Viroblock NPJ03 is among the first textile technologies in the world to be proven effective against SARS-CoV-2 and has been applied by more than 150 brands worldwide to over 1 billion face masks.
Made with 100 per cent cosmetic grade ingredients, HeiQ Viroblock combines two mechanisms of attack resulting in an over 99.99 per cent destruction of various kinds of viruses and bacteria, according to tests performed per ISO 18184 and ISO 20743 standards.
Consorci Hospitalari de Vic in Barcelona has already started treating their laundry using HeiQ Viroblock NPJ03. HeiQ and Gibrau also plan to offer solutions to public launderettes, bringing branded HeiQ Viroblock dispensers to consumers.
Under this collaboration, Girbau will initially focus on a B2B offering, with a particular focus on bringing enhanced antimicrobial and antiviral protection to garments and textiles used in the healthcare and hospitality sector.
"This collaboration with Girbau opens up a new method to add HeiQ Viroblock antiviral properties through a post-treatment to textile products," said HeiQ co-founder and chief executive Carlo Centonze.
"This makes our Swiss Technology Award-winning antimicrobial technology available for protecting more textiles and benefiting more people," he added.
Other News
Featured Supplier

As experts in Wireless Nurse Call Systems, and in particularly call bell systems for care homes, we'll work closely with you to understand the unique nurse call needs of your care home(s). We'll provide a tailored nurse call solution that allows residents to feel safe and provides key cloud reporting data to aid you in your role of managing a safe...