Girbau, HeiQ knit together to 'viroblock' care textiles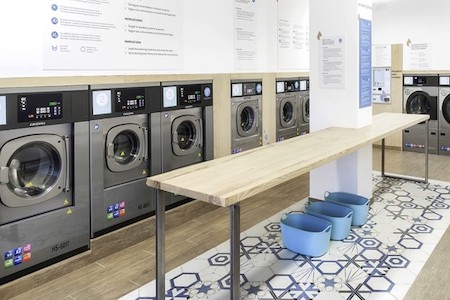 Swiss textile technology outfit HeiQ is partnering with Girbau to offer a virus-killing laundry process for care home clothes, sheets and towels.
Spanish professional laundry system maker Girbau will offer HeiQ Viroblock NPJ03, an antiviral and antimicrobial textile technology that can be sprayed on textiles.
HeiQ Viroblock NPJ03 is among the first textile technologies in the world to be proven effective against SARS-CoV-2 and has been applied by more than 150 brands worldwide to over 1 billion face masks.
Made with 100 per cent cosmetic grade ingredients, HeiQ Viroblock combines two mechanisms of attack resulting in an over 99.99 per cent destruction of various kinds of viruses and bacteria, according to tests performed per ISO 18184 and ISO 20743 standards.
Consorci Hospitalari de Vic in Barcelona has already started treating their laundry using HeiQ Viroblock NPJ03. HeiQ and Gibrau also plan to offer solutions to public launderettes, bringing branded HeiQ Viroblock dispensers to consumers.
Under this collaboration, Girbau will initially focus on a B2B offering, with a particular focus on bringing enhanced antimicrobial and antiviral protection to garments and textiles used in the healthcare and hospitality sector.
"This collaboration with Girbau opens up a new method to add HeiQ Viroblock antiviral properties through a post-treatment to textile products," said HeiQ co-founder and chief executive Carlo Centonze.
"This makes our Swiss Technology Award-winning antimicrobial technology available for protecting more textiles and benefiting more people," he added.
Other News
Featured Supplier

Founded in 1955, based in Ross-on-Wye, UK. A privately-owned company with over 65 years of British innovation in waste disposal management.
Haigh designs and fully manufactures a well-established range of Haigh bedpan disposal macerators that are trusted by hospitals and care facilities throughout the UK and around the world. The reliable...
Upcoming Events
The King's Fund, Cavendish Square, Marylebone, London W1G 0AN
22nd June 2021
Liverpool, Aintree Racecourse
13th July 2021
Glasgow, Hampden Park Stadium
9th September 2021
London, Epsom Downs Racecourse
19th October 2021
Cardiff, Cardiff City Stadium
9th November 2021