Tim Ware crowned NACC Care Chef of the Year 2020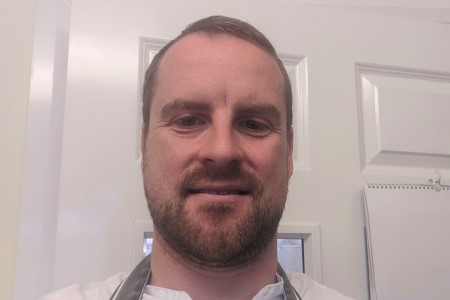 The National Association of Care Catering (NACC) has crowned Tim Ware of Green Tree Court care home in Exeter the NACC Care Chef of the Year 2020 at an online prizegiving ceremony.
Second place went to Matthew Dodds of Gracewell of Ascot and Cheryl Crook from Heol Don nursing residential centre in Cardiff took third place.
The finalists competed in a series of online cook-offs that gave each chef the opportunity to showcase their culinary skills, creativity and specialist care catering knowledge to judges in the safe environment of their own kitchens.
The finalists had 90 minutes to produce the special two-course menu they had created that is suitable for service users in a care setting.
The competition criteria stated that the combined food cost for both courses was no more than £2.25 per head and it must be nutritionally balanced. The menu also had to incorporate one of the listed products from main sponsor Premier Foods.
The judges closely watched and spoke to each chef to assess their aptitude in the areas of nutritional understanding relating to their clientele, culinary flair through flavours, menu balance, execution, presentation and hygiene best practice.
Designated tasters also ensured the judges had a full appreciation of the taste and texture of each dish.
The NACC said Tim Ware (pictured) stood out to take the coveted title with his menu of butter roast chicken, Bombay potatoes, spinach and shallot bhajis followed by a dessert of poached apricots, coconut and lime espuma and pistachio filo pastry.
"Tim Ware's Asian dishes were beautifully prepared with aromas that stimulated the palate. The level of spicing was perfect for his care home clientele. This, together with his well-organised method of work, led to his success in a closely fought cook off," said head judge Bev Puxley.
Other News
Featured Supplier
STJ Projects Ltd provide bespoke joinery solutions to your Care Home projects. Originally a Joinery subcontractor, we have grown and developed our services over time to ensure we meet the needs and requirements of our clients. Our experienced joiners can manufacture and install all manner of timber products, from the construction of a building,...