Florence launches 'vaccine checkmark' for care home agency staff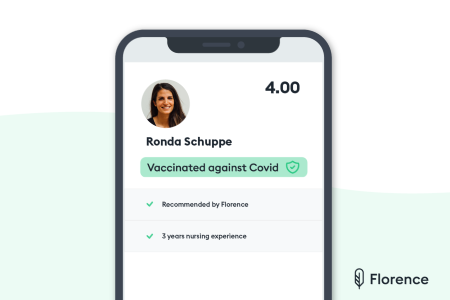 A virtual Covid 'vaccine checkmark' has been launched by tech company Florence for agency staff working in care homes.
The checkmark, which appears on the profiles of nurses and carers using a free online platform, informs care homes if staff have received a vaccination dose for Covid-19.
The vaccine checkmark is added to the profiles of workers who are signed up to Florence's online platform and app.
Nurses and carers who have received their first dose provide a record card as evidence, which is verified by Florence before a checkmark is gained.
Care homes browsing staff on the platform are able to see which users have gained the vaccine checkmark before booking them for shifts.
It gives care homes using agencies the ability to work with vaccinated staff only, potentially helping to increase their level of protection from the spread of Covid.
Florence introduced the industry-first checkmark as vaccine status visibility is crucial for care homes working with agency staff, as agencies continue to be relied on during the pandemic due to staff sickness leave reported at up to 50 per cent.
"Care homes are struggling more now than in the first wave. Staff absence is at an all time high and managers need to know that the support they bring in is safe, said chief executive Charles Armitage.
"We believe that being able to evidence your vaccination status in a robust, digital way will become the gold standard in infection prevention in the coming months," he added.
Other News
Featured Supplier
Global leader in gas appliance manufacturing
Striving for reliable and consistent quality
In order to supply innovative heating appliances that make our lives more comfortable, Rinnai must develop and provide appropriate products while paying close attention to modern demands and problems. This requires advanced developmental and...