Apetito tucks into new range of plant-based dishes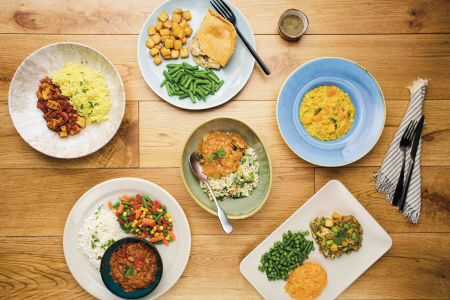 Care home meals provider apetito has launched eight new plant-based dishes as part of its Culinary Inspirations range.
apetito's in-house chefs and dietitian worked alongside guest chef Lydia Downey, who specialises in plant-based cooking, to create the new collection of dishes.
The range includes Thai red curry, butternut squash risotto, BBQ Mexican bean and jackfruit, fajita-style tempeh, vegetable gratin, beetroot and feta frittata, meat-free mushroom and chicken-style pie, and katsu curry.
"I hope our new meals will introduce some new flavours to care home residents who may not have tried them before, whilst encouraging them to eat a different type of cuisine which is both delicious and nutritious," said Downey.
"Nutrition is incredibly important to me when I'm creating a dish, particularly focusing on elements such as protein and fibre as well as including a varied assortment of vegetables, all of which are essential considerations when making a plant-based meal," she added.
apetito said a plant-based diet can provide all the nutrients necessary for good health, including essential fats, protein, and vitamins and minerals.
Studies suggest plant-based diets low in saturated fat can help with the reduction of diseases such as heart disease and type 2 diabetes.
In addition, many of these dishes are energy dense, meaning patients get all the nutrients they need in a manageable portion size.
Research shows the number of vegetarians in Britain will double to ten per cent in the next two years and plant-based food is one of the fastest-growing food trends across the country.
"We know from talking to our customers that there is a rapidly growing need for more variety in vegetarian dishes as more people opt to follow a plant-based diet, whether for animal welfare, environmental or health reasons," said apetito care homes divisional manager Neil Hargreaves.
"We have developed these eight new dishes to add fresh inspiration to our range, and our aim is to enable homes to offer residents an enhanced choice in dishes, with flavour they will love, while delivering exceptional nutrition," he added.
Other News
Featured Supplier
We are one of the UK's leading trade only large format graphics and banner printers.  Established as a small sign company in 2008, we have grown in scale and now have 1000's of loyal trade clients in the UK and Europe.  We have developed a trade online hub to cater for your needs quickly, efficiently and as cost effectively as possible.
Our...