Musical services for dementia sufferers to get £500k tune-up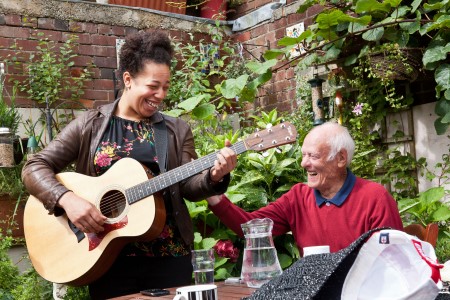 The Music for Dementia campaign and the Utley Foundation have launched of The Paul and Nick Harvey Fund to support musical activities for people living with dementia.
Registered charities and community interest companies delivering music to people with dementia are being invited to apply for a grant from the £500,000 fund.
Donated by The Hunter Foundation, the new fund builds on the work of Music for Dementia. The substantial donation came after Sir Tom Hunter heard about Paul & Nick Harvey via BBC Breakfast.
Paul Harvey is a former classical pianist and music teacher, now in his 80s, who lives with dementia. His spontaneous Four Notes composition, videoed by his son Nick, went viral across social media in September 2020.
It was orchestrated by a BBC Philharmonic player and recorded by the BBC Philharmonic in October, then made available as a single. Music for Dementia was nominated by the father and son to receive half of the sales proceeds alongside Alzheimer's Society.
The Utley Foundation and Music for Dementia are looking for applications from providers of all different types of musical offers and services from across the UK.
They would particularly like to hear from those who have developed innovative approaches to delivering music during Covid-19, and those working with BAME groups and communities.
Any charity or CIC with an annual income of £5m or less currently delivering music for people living with dementia in their local community is eligible to apply for a grant from The Paul & Nick Harvey Fund.
"We are delighted to be able to direct this generous donation from The Hunter Foundation towards community-based, musical offerings for people living with dementia and those that provide them," said Music for Dementia programme director Grace Meadows.
"The results of this fund will also build the evidence base of the benefits of music. It complements the work we are doing, including m4d Radio, our award-winning 24-hour radio station for people living with dementia , so that we can continue to advocate for wider change."
Application guidelines and an online application form are available via the Music for Dementia website at https://musicfordementia.org.uk/paul-and-nick-harvey-fund-application-guidelines/.
Other News
Featured Supplier

Imprint Plus™ prides itself on helping businesses connect with their customers in a deep meaningful way. Not only displaying their brand with the right look and feel but also building custom solutions to convey the businesses core values and message. Balancing quality and cost with a custom solution is where Imprint Plus™ has helped 37,000...