All care home residents 'to be vaccinated by end-January'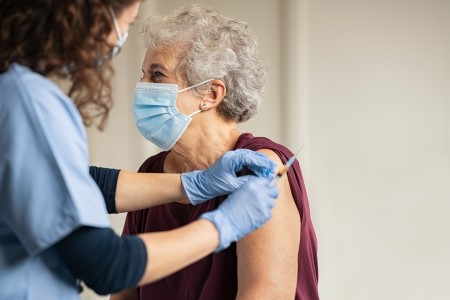 GPs and local vaccination services have been asked by the government to ensure every care home resident in their local area is vaccinated by the end of January.
The development comes as the first people received the Oxford University/AstraZeneca coronavirus vaccine as the NHS "rapidly expands" Covid-19 vaccination programmes across the UK, the Department of Health and Social Care (DHSC) said in a statement.
The first Oxford/AstraZeneca vaccinations will be delivered at hospitals for the first few days, as is standard practice, before the bulk of supplies are sent to hundreds of GP-led services and care homes later in the week.
The vaccine can be stored at fridge temperatures, between two to eight degrees, making it easier to distribute to care homes and other locations across the UK.
The vaccines will be deployed through 100 hospital sites for NHS and care staff and older patients to get vaccinated; 180 GP-led local community services; and 730 vaccination centres across the UK.
DSHC said "an army of current and former NHS staff" have applied to become vaccinators, with "tens of thousands having already completed their online training".
"These are being processed as quickly as possible and volunteer vaccinators will be deployed as more vaccine supplies become available," it added.
In line with the recommendations of the Joint Committee on Vaccination and Immunisation, the vaccine will be rolled out to the priority groups including care home residents and staff, people over 80 and health and care workers, then to the rest of the population in order of age and risk, including those who are clinically extremely vulnerable.
The following hospitals in England will start delivering the vaccine today ahead of the rollout to hundreds of GP-led services later in the week:
Royal Free Hospital London NHS Foundation Trust
Brighton and Sussex University Hospitals NHS Trust
Guy's and St Thomas' NHS Foundation Trust
Oxford University Hospitals NHS Foundation Trust
University Hospitals of Morecambe Bay NHS Foundation Trust
George Eliot Hospital NHS Trust.
Other News
Featured Supplier

Designing wall-coverings and murals for the care home sector is an area ATADesigns have been exploring for the past few years.  With an ageing population living longer, more and more care homes are being used.  Creating a safe and caring environment in a care home is important, and this includes its interiors.   I like to think that our...