Teal flocks to provide essential Covid support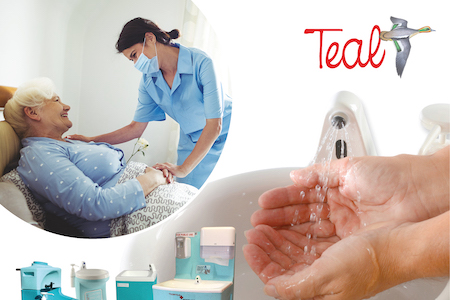 Teal portable sinks are being used across the UK to fight against the spread of Covid-19 infection through regular hand washing with soap and water.
Throughout the lockdown and tier-controlled periods, Teal has supplied portable sinks to a large number of UK hospital sites from Scotland to Cornwall and sales enquiries have come in from North America and Europe.
The sinks are standalone and can be placed exactly where needed, totally independent of any plumbing that exists in the building or room. Another advantage of the sinks is that they can be purchased, then activated, whenever needed by the hospital, making them an efficient tactical solution.
They are supplied with their own water containers and separate waste containers that are housed inside the unit. This allows isolation rooms, that may have limited plumbing, to have their own sink away from other patients.
The sinks can also be used to act as a barrier, placed strategically, to ensure all staff and other visitors wash their hands before crossing into an area that needs isolation or protection.
The 'Mediwash', one of the most popular sinks supplied, includes an automatic sensor that starts a pre-programmed hand wash cycle, supported by on-screen instructions that direct the user to follow 'The NHS hand washing instructions' for effective hand washing.
They are also easy to use as they are activated by the sensor and only need a hand to pass in front of it. No taps are needed, and the warm water shuts off automatically after the cycle has completed.
It also worth noting that - as the sinks dispense warm water at controlled temperatures, within the HSE guidelines - they remove the risk of scalding.
Setting up the sink is straightforward. It can be plugged into a normal 13-amp socket and the unit produces a carefully controlled five-second flow of water followed by a 20-second delay to allow for soaping finally followed by a ten-second rinse cycle.
This matches all the advice we have been given throughout the outbreak, to wash hands effectively, delivering the ideal amount of water for a high-quality hand wash – without any of it being wasted.
The energy use is therefore low, the built-in water heaters use less than 20 per cent of the energy needed for any other type of system, with the water being heated to the comfortable temperature.
No heat is wasted by having to mix hot and cold water – and there is no heat loss from storage tanks, pipework, taps or fittings.
Other News
Featured Supplier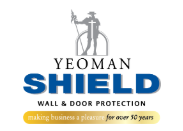 Celebrating 50 years in the wall & door protection market in 2016 made Yeoman Shield mindful of how important stability and longevity is for both vendors and purchasers, in times which are not without their uncertainties, in the business world. A strong, independent company, being able to offer a core of functional wall & door protection products...