Creating safe and healing care home environments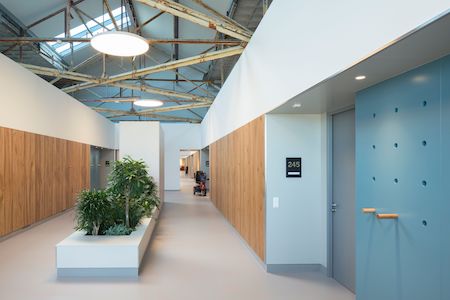 Choosing floor coverings for care facilities can be challenging. The decision is about more than just function and performance, it is about creating an ambiance that helps residents to feel comfortable and relaxed.
The choice of floor coverings should also contribute to improving infection control and help to create hygienic environments, whilst at the same time ensuring that finishes can stand up to the daily demands of a live/operating care home.
With organisations such as the International WELL Building Institute continuing to push for healthier indoor environments, protecting the wellbeing of a building's occupants is a mounting concern. One solution that ticks all of the boxes is Forbo Flooring Systems' Marmoleum collection; a hygienic and naturally bacteriostatic floor covering that is easy to clean and maintain and is durable, safe and comfortable for both wheeled and foot traffic.
Infection control
Manufactured from 97 per cent natural raw materials, including linseed oil, Marmoleum is independently proven to inhibit the growth and spread of infections such as MRSA, norovirus and C. difficile.
As an inherent property of the product, this means that the anti-bacterial qualities of Marmoleum will not diminish over time, giving peace of mind and constant protection from the moment it is installed inside a care home.
Allergies
A report by Allergy UK estimated that there are at least 12m people "allergic to their own home" with 58 per cent citing house dust mites as a key trigger.
The issue should therefore not be ignored in care homes and the importance of floor coverings in creating better indoor environments should not be overlooked. Marmoleum has been awarded with the prestigious 'Seal of Approval' from Allergy UK, as with the correct cleaning regime, it will not harbour allergens or house dust mites.
Durability
From a longevity perspective, Marmoleum is manufactured with a unique high performance UV-finish, Topshield, which prevents staining, scuffing and scratching and provides for easy cleaning and maintenance. That makes it an ideal solution for high traffic general circulation areas such as receptions, corridors and waiting areas.
The Topshield finish is also resistant to chemicals and hand disinfectants, and therefore is suitable for use in areas where clinical care may need to be administered or where stringent hygiene regimes are in place.
Acoustics
Acoustics is another important factor to take in to account in creating a better quality of life for residents and the best way to reduce sound is at the source. As impact sound is generated by traffic contacting the floor surface, acoustic floors are key when it comes to reducing noise in care facilities.
Forbo offers a dedicated range of acoustic Marmoleum solutions offering impact sound reduction properties of between 14 dB and 18 dB.
Sustainability
In today's current climate, sustainability is becoming more prominent. Marmoleum combines ecological values with contemporary design and offers an important contribution to a sustainable world.
In fact, the weighted average of the Marmoleum product range is CO2 neutral (from cradle to gate) without offsetting.
Furthermore, the carbon neutrality of the 2.5mm range is independently confirmed by an Environmental Product Declaration. It also contains no phthalates, no plasticisers and no mineral oil contributing to a better indoor environment for all.
Dementia-friendly
In addition, Marmoleum is dementia-friendly. According to the Alzheimer's Society, 70 per cent of people in care homes currently live with dementia or severe memory problems.1
With this in mind, designing dementia friendly environments is crucial. Flooring is one of the critical considerations as it has an impact on the feeling of safety and orientation within a space, giving patients confidence, security and independence when chosen correctly.
Forbo has partnered with The University of Stirling's Dementia Services Development Centre to identify which products in its portfolio can contribute to improving the quality of life for people living with dementia.
Now, those working on care home projects care can choose from an extensive selection of more than 1,000 Forbo products - including Marmoleum - that have been accredited across the rating system.
For ease of identification, the suitability of a product is classified by a number based on the tonal contrast and pattern of products. For example, 1a has plain aesthetic and 1b has a semi-plain design, both of which can be used indiscriminately. However, floor coverings classified as 2 have a patterned surfaced and should be used with more caution.
Floor coverings are an intrinsic part of the built environment, they are omnipresent in every square metre of a care home. A natural winner, Marmoleum floor coverings are natural floors associated with sustainability, durability, high quality and innovative design and can contribute to a safe, hygienic and comfortable living environment for residents.
To learn more about Marmoleum, please visit: https://www.forbo.com/flooring/en-uk/commercial-products/marmoleum/c0aq3g?utm_source=sponsored&utm_medium=care_home_environment&utm_campaign=marmoleum or to find out about Forbo's work in the care sector: https://www.forbo.com/flooring/en-uk/segments/care/pi3g7f?utm_source=sponsored&utm_medium=care_home_environment&utm_campaign=care.
Reference
1. https://www.alzheimers.org.uk/about-us/news-and-media/facts-media
Other News
Featured Supplier
Skopos Fabrics Limited is a leading provider of contract fabrics and soft furnishings. As experts in flame retardant fabrics, Skopos develops new collections each year to meet the demands of the care environment. With waterproof upholstery fabrics, wipe-clean faux leathers and a large choice of printed and woven designs Skopos can meet the needs of...