Meltemi smartens up uniform website with fresh look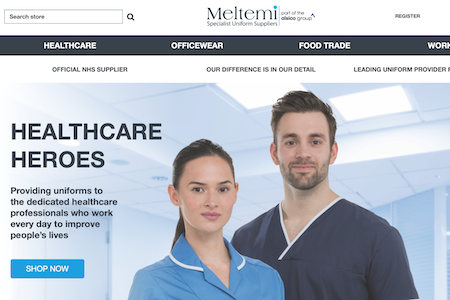 Uniform supplier Meltemi has launched a redesigned website with improvements and additional functionality to provide a comprehensive, hassle-free experience for its customers.
Key changes include a live chat feature with agents available during opening hours to assist with any questions customers may have in relation to an existing or potential order.
A filter functionality meanwhile will allow customers to be able to filter product ranges by colour, size, fit, care and fabric for easier browsing.
In addition, Meltemi has introduced a more sophisticated and simpler tool to select the style and type of embroidery to be added to uniforms.
Available on each product page, the tool allows customers to choose the text, embroidery colour, size of the embellishment and where it is to be featured on the garment.
Alternatively, users can upload a company logo to an account and select the file at this point to be added to the garments.
In addition, a size chart on each product page aims to help with any queries regarding the sizing of products.
Furthermore, a portal option is available for larger organisations and universities. Setting up a portal account through the Meltemi website will allow employees to view their own workwear wardrobes, check stock availability and order history.
Meltemi said: "For the majority, 2020 has been a surreal and testing time. We're extremely proud of the team effort here and at the Alsico group for pulling together to ensure our key workers and the healthcare industry were equipped with the uniforms they need in order to care for our nation.
"Not to mention our recent relocation to the Alsico offices and warehouse in Preston, Lancashire; our next step to integrate further within the group and work as a cohesive unit. With all of this change happening, it seemed only fitting to ensure our website provided a comprehensive, hassle-free experience for our customers," it added.
Visit the website here- https://www.meltemi.co.uk
See more about Meltemi Limited
Other News
Featured Supplier

Meltemi  have been designing and manfacturing garments for the healthcare market for over 30 years.  We are key providers to the NHS, private healthcare, GP surgeries and residential care homes market across the UK. So whether its tunics for nursing staff, blouses and suiting for administrative staff or catering or workwear uniforms we have it...