Rinnai ready to please with hot water needs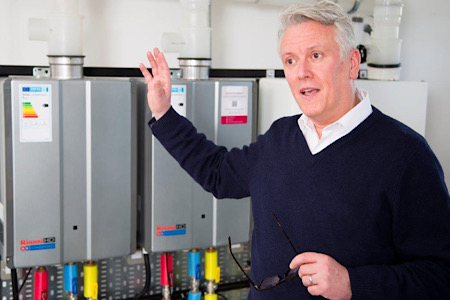 Rinnai has announced guaranteed 24/7 product availability of its range of continuous hot water flow products and systems to all essential works, installers and contractors for care homes.
Rinnai is also guaranteeing speed of delivery, as all ordersplaced will be dispatched within 24 hours on a next day service.
Rinnai products can also be shipped the same day – or night – by priced-in special courier direct to any healthcare or critical site in UK major towns and cities.
"Just a week or so ago we opened up our whole facility on a Sunday morning in order to supply product to an installer who needed new units and some spares and flueing products for a care home site," said managing director Tony Gittings.
"We are here to help and serve the marketplace. It is a totally integrated part of our operation now – our answer is 'Yes' to any supply and shipment question to anywhere on mainland UK," he added.
Rinnai continues to offer full services for all sectors coping and fighting against the current pandemic.
Rinnai guarantees limitless hot water supplies to any site - for as long as there is a constant supply of gas and water.
Rinnai continuous flow units are guaranteed to supply temperature controlled and useable hot water in unlimited quantities for all hygiene regimes in all types of healthcare sites, temporary accommodations and essential services.
"It is also important for the installer, building services consultant and end user to understand that continuous flow can readily and quickly replace any other form of hot water delivery that fails or cannot cope with demand," said Gittings.
"A site does not need to do what they believe is a 'like-for-like' replacement - essential services' sites simply need uninterrupted and reliable flows of hot water to maintain hygiene standards," he added.
The Rinnai specification and design team can also prepare installation schematics that demonstrate best practice regarding legislative design considerations. This expertise will guarantee best practice to combat legionella, G3 and a host of other onsite compliance issues.
Rinnai meanwhile continues to offer 24/7 technical service, product and spares availability, and digital technology aids such as the 'Help Me Choose' facility on the www.rinnaiuk.comwebsite.
The Rinnai services for essential works include its Runcorn UK headquarters' emergency weekend opening and sales support, which is open for any emergency/essential equipment provision of new units and for spares.
In addition, there is weekend operational and technical support helpline. Call 01928 531870 and select sales and if the call is not answered immediately leave a voicemail and the company will respond within an hour.
For more information visit: https://www.rinnai-uk.co.uk/contact-us/ask-question/
See more about Rinnai UK Limited
Other News
Featured Supplier
The Renray range of care home furniture covers the design and specification requirements of all care and nursing homes and includes everything from stylish, designer sofa collections, modern and traditional occasional furniture ranges, through to bedroom and dining furniture.
The increasing need for care home furniture to withstand the...