Pilot scheme for visitor Covid testing takes off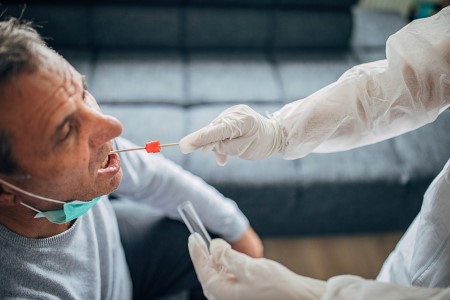 Family members or friends of those living in care homes will be given Covid tests to enable visits as part of a government pilot scheme launched today (16 November).
The pilot is taking place in around 20 care homes across Hampshire, Cornwall and Devon where regular testing will be offered to one family member or friend per resident, which – when combined with other infection-control measures such as PPE – will support meaningful visits, said the Department of Health and Social Care (DHSC).
The tests will enable, where possible, indoor visits without a screen to take place while reducing the risk to care home residents, staff and visitors, it added.
Visitors will be offered either PCR tests which they can do at home, or the new 30-minute lateral flow tests (LFTs), which can be administered in person at care homes before a visit.
Each care home receiving LFTs will receive a box of 675 initially and will be given access to more as required.
The testing will take place in local authorities with lower transmission rates to ensure it can be done as safely as possible and care staff are being trained to ensure tests are administered safely and accurately.
DHSC said the pilot scheme will be rolled out more widely in December in time for Christmas.
"If successful, care home testing will be rolled out in a phased way across the country. Any decision on a national roll-out will be taken in light of the latest available data on transmission rates as a result of national Covid-19 restrictions," said Care Minister Helen Whately.
"Exact details of the national roll-out will be published in due course and will be guided by the pilot. It is anticipated the LFTs will be used across the country to support rapid access. If these faster tests work in this setting we will ring-fence supply to open up more chances for visiting," she added.
Other News