Hundreds of care homes to benefit from digital staff training project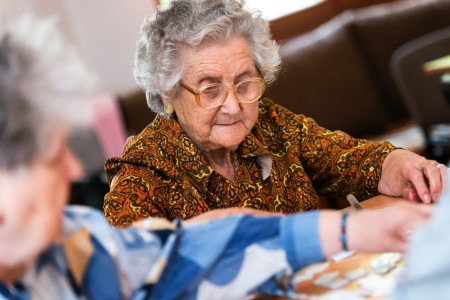 A government-funded project is to help researchers develop a digital staff training programme to improve and personalise care for people with dementia in hundreds of care homes hard-hit by Covid-19.
£1.2m from the National Institute for Health Research and UK Research and Innovation will fund the project led by the University of Exeter and King's College London and involving the universities of East Anglia and Hull and the London School of Economics.
The study will draw on the elements of the organisations' Improving Wellbeing and Health for People with Dementia (WHELD) programme, one of the very few staff training programmes that is proven to improve lives for people with dementia in care homes.
Clinical trials have demonstrated that WHELD improved quality of life and mental health, and reduced the use of harmful sedative drugs.
The platform aims to bring together conversations and resources to share stories and solutions to the challenges care homes face.
Short, digestible and practical digital resources and tools that are easily accessible and supported by a network of WHELD coaches to create a community that allows participants to stay connected and supported at a distance.
The first step will be to develop specific adaptations to the programme in light of the Covid-19 crisis, such as peer networking and solution sharing.
They will combine with the core elements of WHELD, focussing on person-centred care which involves the resident in decision-making, personalised activities that are tailored to the residents' interests, and reducing unnecessary sedative medications, known to increase risk of falls and death.
Within four weeks, the programme will be made available to 160 care homes, in a trial supported by Exeter's National Institute for Health Research-funded Clinical Trials Unit.
The team will evaluate outcomes relating to staff mental health and attitudes, and residents' quality of life, their attainment of care goals, and use of sedative medications.
Building on the findings, the team will evaluate efficacy and cost-effectiveness in 1,280 care homes, before making the programme "implementation ready" for national care home roll-out.
University of Exeter WHELD programme lead Joanne McDermid said: "This study is all about building connections and the importance of community, which are especially vital in a time of isolation and social distancing.
"It's about creating more opportunities for meaningful engagement and interaction both with people living with dementia in care homes as well as for care staff seeking peer to peer connection across the care home sector. Being able to share what you've learned with other people makes for a much richer experience."
The research is also funded by Torbay Council and the Schroder Foundation, and supported by Alzheimer's Society.
Other News