Henley Manor shortlisted for international design award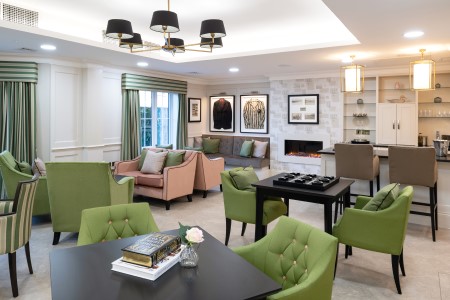 Hallmark Care Homes' Henley Manor in Oxfordshire has been nominated for an international award by the Society of British International Interior Design (SBID).
Designed by Sussex interior design company HomeSmiths, Henley Manor is in the running for the 'Healthcare and Wellness Design' award at the SBID International Design Awards.
The awards seek to recognise design excellence ranging across commercial and residential interior spaces.
The 80-bed, £8.5m facility, which opened in January this year, includes a hair salon, therapy room, cinema and café.
The home also features many design elements developed specifically for people living with dementia, including coloured and textured walls, and reminiscent images of Henley for local residents plus large balconies providing relaxing outdoor spaces.
The landscaped gardens include an outdoor putting green, aviary, greenhouse, living wall and waterwall.
"Henley Manor provides innovative solutions to care and a lot of consideration has gone into this home to ensure we are meeting the ever-changing needs of the residents," said Hallmark chairman Avnish Goyal.
The winners of the awards will be decided via a voting system and announced at Grosvenor House in London in October 2021.
Winners across the 17 categories will receive an SBID International Design Award 2021 trophy created by Czech glass specialist Sans Souci Glass Deco.
Other News