Home care service trials temperature monitor discs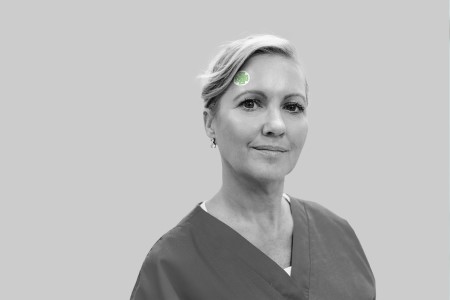 Staff at a supported living community are trialling an innovative temperature indicator that has helped them to monitor carers and residents.
The team at Elan Care Whitethorn, a home health care service based in Hartlepool, is testing the Visual Temperature Indicator (VTi) - an adhesive disc applied to the head.
With a high temperature being one of the first symptoms of a number of health concerns, including Covid-19, the VTi immediately alerts the wearer, or carer, to a change in temperature at the earliest stage by changing colour.
Displaying green when normal, the disc changes to a shade of red when it rises to 37.5 degrees Celsius.
If the temperature rises to 38C, the VTi symbol will turn bright red, indicating that immediate action should be taken.
If and when the wearer's temperature returns to within a normal range, the indicator will revert back to green.
Developed as an aid to continuously monitor a person's body temperature when traditional medical devices and thermometers are not in use, the VTi uses thermoreactive technology that reacts to the body's temperature.
"The landscape across healthcare will be changed forever but, a high temperature is the first symptom of many underlying health conditions," said VTi Limited director John Hill.
"Therefore, bringing something to the market that adds an extra layer of protection while still enabling social distancing, keeping people safe in the knowledge that any changes can be picked up immediately is of benefit to everyone," he added.
Other News