Leading care providers without routine Covid tests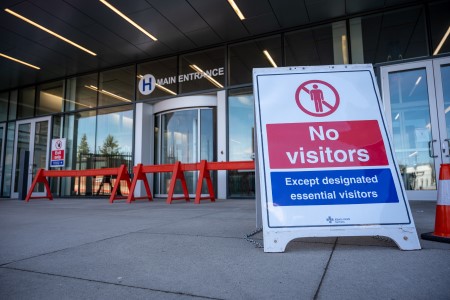 Leading care providers have voiced concern over the lack of available Covid-19 testing in their homes due to ongoing problems with test kits.
Methodist Homes (MHA), the country's largest charitable care provider, said it has been without routine testing for residents and staff for two weeks because of safety issues with Randox tests.
The Department of Health and Social Care (DHSC) issued a notice on 16 July stating some sampling swabs made by Randox should not be used.
"We are now heading into our third week of no testing for the majority of our care homes following the Randox debacle and we understand it will be weeks before it is rectified," said MHA chief executive Sam Monaghan.
DHSC announced earlier this month that care home staff would be tested for Covid every week, with residents receiving a test every 28 days.
"For a few weeks it felt like we could start to re-introduce some semblance of normality back into our homes, welcoming back health visitors, outdoor socially distanced visits where it was safe to do so and awaiting the green light from local Public Health for more family contact," said Monaghan.
"After the public accounts committee report outlining the litany of government failures in relation to the care sector during the pandemic it is yet another blow," he added.
Care UK meanwhile has told relatives of its care home residents that a problem with testing kits from an unnamed supplier could mean staff and residents have no regular testing for five weeks, according to a Reuters report.
"I am sure many of you will find this situation as disappointing as I do," Care UK chief executive of residential services Andrew Knight said in a letter to relatives.
Other News