Comenda unveils ThermoCare dishwasher range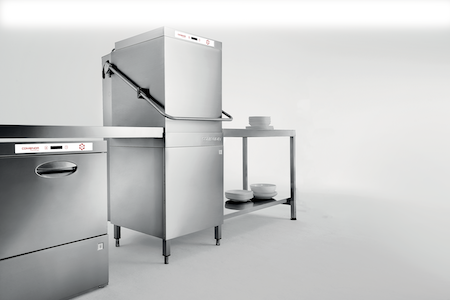 Warewashing equipment manufacturer Comenda has unveiled its ThermoCare range of dishwashers offering enhanced levels of hygiene.
The Italian company said its ThermoCare units are the ideal solution for the care sector due to three disinfection-specific wash programmes: Xpress Care, Care, and Extra Care.
The programmes are designed with the A0 hygiene value, used in the medical field (standard EN 15883-1) to assess effectiveness against microorganisms and recognized by the European scientific community, as a reference.
In the case of cutlery that is not excessively dirty, the Xpress Care programme can be used to reduce washing time and energy consumption, while maintaining the same level of A0=60 thermal disinfection as the Care programme.
The Xpress Care and Care programmes offer twice the A0=30 thermal disinfection level of the standard wash cycle (DIN10534).
The Extra Care programme meanwhile meets the most stringent hygiene requirements in terms of thermal disinfection, including NHS guidelines.
Comenda claims the programme guarantees a very high level of disinfection of A0=300, even in the presence of the most stubborn dirt, achieving a result that is five times higher than the Care and Xpress Care programmes.
In addition, the Thermolabel programme maintains the high level of thermal disinfection of Extra Care but with a shorter duration.
Comenda said its standard rinse control device combines an atmospheric boiler and a rinse booster pump to ensure consistent water pressure at a constant temperature throughout the cycle.
Furthermore, the ThermoCare dishwasher range features undercounter and hood type units offer to offer uncompromised hygiene.
The range also features a triple filtration system, with a stainless steel surface filter, polypropylene basket filter and stainless mesh wire micro-filter.
That ensures even the smallest particles of dirt are captured and removed by the drain pump, with no downtime and no need to drain down the tank during peak operations.
To find out more, download the brochure: https://www.dropbox.com/s/sem01fq71gmb5km/%20THERMOCARE%20UK_HR%20.pdf?dl=0 or call 07796 940652
Other News