Hancock: We need to drive forward care integration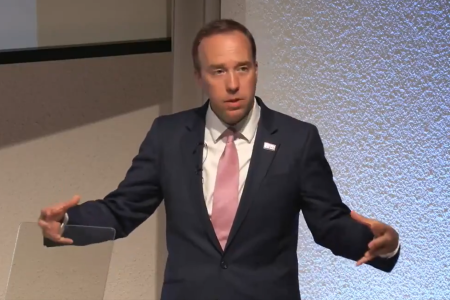 The NHS should build on the closer working relationship between the health and social care sectors beyond the Covid-19 pandemic, according to Health Secretary Matt Hancock.
In a speech setting out his vision for the future of healthcare in a speech at the Royal College of Physicians in London, Hancock said the government needs to "drive forward the integration of health and social care".
"By pooling budgets and giving the NHS responsibility to support people out of hospital, we radically reduced the number of people getting care in hospital when they should have been at home," he added.
Hancock (pictured) said the Covid-19 pandemic has shown the importance of collaboration between health and social care, and that it should continue in the future.
"We've heard about GPs going the extra mile for care homes and telemedicine enabling care in the peak of the pandemic," he added.
"The NHS has also given every care home a dedicated clinical lead and hospital trusts have provided thousands of infection control training sessions."
Hancock said it is time to "set clear ambitions about the future of social care" in and "fix an issue that has been ducked for far too long".
"We already know that we need a fairer system for paying for care, that protects people from the exorbitant costs that require them to sell their home, and that we need to get more money overall into social care and fix the funding shortfall," he added.
Hancock continued: "Achieving this will involve bold reforms, not just about funding, but also effective structures for oversight and accountability.
"We will be saying more about this over the coming months but this is a top priority for me, so we can create an enduring model of care, focused on early intervention, prevention and technology".
In a related development, the Department of Health and Social Care has published a new consultation on reducing bureaucracy.
The department is reviewing how it can "embed the positive changes that have occurred in recent months, as well as building on previous and current work to reduce bureaucracy and encourage innovation".
Other News