Eyeing a post-Covid digital future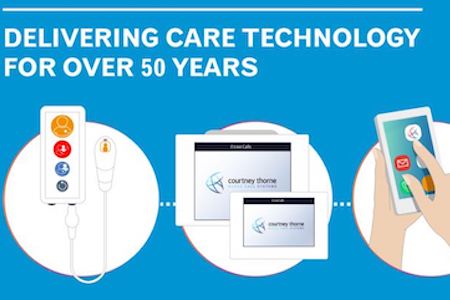 Dave Hewitt, sales and marketing director at nurse call system supplier Courtney-Thorne, highlights the role of digital technology for care homes
Twenty years ago, few could have imagined we would be able to fit a camera, thousands of emails, photos, television and many other handy tools in a device that fits in your pocket.
Six months ago, few imagined a lockdown scenario and all the implications of a pandemic, and how it has and will continue to affect all our lives.
So, with the implications of both the above statements, will the term 'digital' now come of age, offering low touch, remote access, accurate paper-free monitoring all resulting in safer, secure and more efficient living and working environments especially in the vulnerable elderly care sectors?
There are many separate devices, systems and technology used throughout a care home, each produces masses of data, much of which requires manual collection by staff.
These systems operate independently of each other and rarely do more than the basic functionality they were originally designed for - rather similar to the mobile phones of 20 years ago.
After 50 years being at the forefront of advances in nurse call systems, Courtney Thorne continue to develop solutions that seem more relevant and important now than at any time before.
The introduction of digital care planning and medication solutions has enabled forward thinking care homeowners to go paperless, giving more accurate, timely and readily available information on those in their care.
These same digital devices, tablets and smart mobiles can now be used to view calls and emergencies generated by a Courtney Thorne nurse call system. Both new installations and existing Courtney Thorne systems can benefit with calls being delivered straight to the carer.
Monitoring of resident's care planning and medications are just two areas that reduces the amount of paperwork and administration, freeing up carers to spend more time caring.
The monitoring of the caring staff themselves can become arduous and time-consuming for management, not with a Courtney Thorne nurse call solution.
The introduction of staff ID tags or fobs is nothing new, there are so called systems on the market which use simple magnets which carers need to remember to press onto a room sensor when they attend, and again when they leave a resident's room.
With Courtney Thorne's Altra Tag the process of logging who attended, what time they attended and how long they remained in the resident's room is all logged automatically and seamlessly. No longer are there management and staff disputes about forgetting to 'fob in and fob out'.
The volume and detail of the data captured automatically by a Courtney Thorne nurse call system is vast. All the data is available to management using the reporting function built into the main touch screen server.
However, where visiting the home is difficult due to Covid-19 restrictions or time and distance problems, owners and managers may find retrieving data difficult, resulting in a lack of monitoring and possible reduction in quality of care delivered.
Courtney Thorne's CT Cloud service provides ready complied, detailed reports daily, coupled with a 'live' view of all data contained in the server from any location with an internet connection.
Carrying out regular checks on sleeping residents is time-consuming and often counter-productive as residents often wake, have poor sleep and can even fall after attempting to use the toilet once awake.
Acoustic monitoring means that only those who need assistance get it but also those who are sound asleep do not get disturbed, and carers can concentrate on more productive tasks.
So, what other new solutions are on the horizon in this new Covid-19 and digital world? Nurse call devices around a care home become intelligent enough to identify a resident in need.
Already, we can measure changes in levels of noise, but monitoring light, temperature coupled with wearable devices monitoring vital signs, now a deterioration in a resident's wellbeing can raise an alert or be recorded.
A 'connected' resident with a wearable device can have their movement, location, heart rate, sleep, blood pressure and so on monitored automatically. Instead of intrusive, often unsocial physical monitoring, at-risk residents have vital signs checked and recorded continuously.
If an emergency occurs, the nurse call system will still summon help, only now one of its key functions will be to record, store and make available critical data. Thereby, it reduces touch points, minimises transmission of disease, frees up carers' time and provides a safer and healthier life for both residents and staff.
Inspired by limitless opportunities, the step we made took us on a journey from our well-respected wireless nurse call systems, to developing the Altra Care - SMART wireless nurse call solution with the capability of wirelessly integrating with different devices and applications used throughout care homes.
Altra Care provides automation and monitoring, staff become more productive spending less time on paper-based admin tasks. Furthermore, secure cloud-based communication provides managers remote access to reports assisting them with more effective decisions.
As Courtney Thorne continues to lead in wireless care solutions and patient and elderly activity monitoring, further innovative solutions will provide fresh areas for debate and discussion, as both hospital and care home management teams demand increases in functionality, efficiency and quality of service, during both normal and current difficult times.
Other News