'Layers of bureaucracy' stifling Covid funds reaching care homes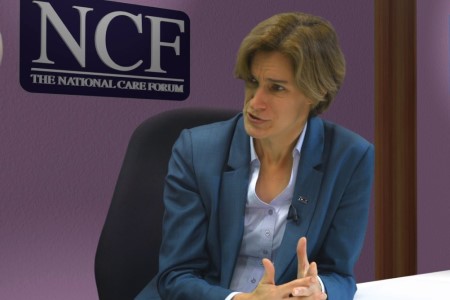 The National Care Forum (NCF) has written to the government's new national Covid-19 social care taskforce warning that funding for tackling the pandemic is not reaching the front line.
In a letter sent by NCF executive director Vic Rayner to taskforce chairman David Pearson, the representative body said the latter must tackle as an "absolute priority" funding for social care to cope with the "enormous costs" being experienced by social care providers.
In April the government allocated £3.2bn to local authorities to support the Covid response with social care explicitly identified as a key priority.
That funding, however, is "still not reliably and consistently reaching the front line of care", said Rayner (pictured).
In addition, she added, the £600m Infection Control Fund announced last month is not reaching the front line of care homes as quickly as hoped.
"Yet again the sector faces layers of bureaucracy via centralised constraining grant conditions and the inevitable spectre of variable interpretations and applications of the fund by 151 different local authorities – all the time taking away from the essential task of caring."
Rayner called for national and local leadership that cuts through the "red tape".
"This is absolutely not a blame game. We recognise the very significant financial pressures that local authorities are facing, and we need urgently to find a solution that doesn't put authorities in a position of having to make extraordinarily difficult choices," she said.
Other News