Housing 21 unwraps Fry Court extra care scheme in Yorkshire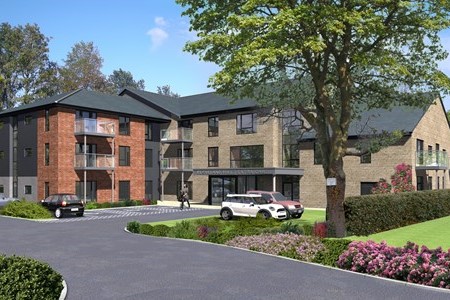 Not for profit provider of retirement housing Housing 21 has completed construction of the Fry Court extra care developer in the North Yorkshire village of Great Ayton.
Fry Court provides 57 one-and two-bedroom apartments available for affordable rent and shared ownership.
The scheme is Housing 21's first extra care scheme in Great Ayton and has been designed for people over the age of 55 to promote independent living in a community setting, with access to 24/7 on-site care if required.
On-site facilities include a café/bistro and hair salon, which are also accessible to visitors subject to social distancing.
In addition, there is a residents' lounge, activity room, treatment room and communal gardens for residents and these will also open to the public following government guidelines.
Near to country house Cleveland Lodge, the scheme is known as Fry Court, after chocolate manufacturing firm J. S Fry & Sons. A member of the Fry family, Sir Wilfrid Fry, once lived in Cleveland Lodge, with wife Lady Anne of the Cadbury family.
Gateshead-based contractor Tolent adhered to strict health and safety protocol on site, including re-programming works to minimise the number of people on site, staggering shifts and break times, providing full-time cleaning services, implementing one-way access to work areas and at all times carrying out modified risk assessments to implement social distancing.
Tolent commercial director Paul Walker said: "From the start of this global pandemic, the health and wellbeing of our colleagues and supply chain partners has continued to be our number one priority.
"There were some fundamental changes made to our ways of working which sometimes isn't easy to do, but our teams rose to the challenge and can all be proud of what they have achieved."
Fry Court housing and care manager Holly Hunton added: "We have faced challenges along the way, but no one could have predicted a global pandemic! I am so proud of our teams for ensuring building work could continue safely for those in need of a new home with good quality care and support.
Other News