MEDSan maps path to weekly Covid testing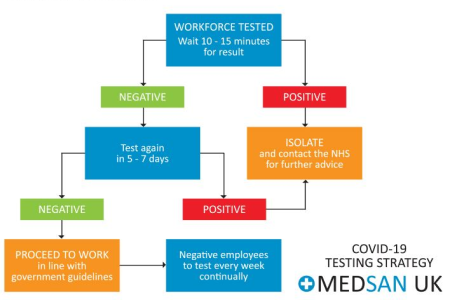 MEDsan UK has launched a Covid-19 testing strategy for businesses wanting to get employees back to work.
The company is offering a rapid antibody test manufactured in Germany by SanPharma.
Initial laboratory test results demonstrated a clinical sensitivity of more than 96%, a specificity of 100% and an overall accuracy of 99%.
Four days before being due back to work, the employee takes a rapid antibody test, with a finger prick of blood. The antibody test costs £30 per test.
The results are given within 10 to 15 minutes. If negative, the employee tests again the morning they are due back to work.
If the test is still negative, they can proceed to go to work, observing the government's social distancing strategy wherever possible, and test every week continually.
If the employee tests positive, they must immediately self-isolate to prevent spreading the virus to others. They should then contact the NHS on 111 for advice on the next steps to take.
Critical industries such as the care sector can look to employ this strategy to be able to run their business whilst keeping track of employee exposure to the virus and keeping their workforce safe, MEDsan UK said.
The company has received over 30m orders from over 20 countries globally for the Covid-19 tests including the USA, Spain and Italy, it added.
Other News