Norwegian start-up puts video cycling pedal to the metal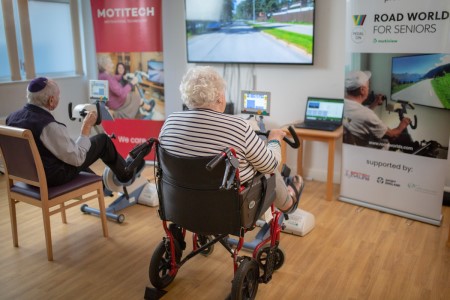 Norwegian start-up Motitech has launched free three-month trials of its virtual cycling concept to enable UK care home residents to take part in physical activity while self-isolating.
The Motiview technology allows users to revisit familiar places from their childhoods and other important points in their lives, or travel the world, through a video projection that plays while pedalling.
Using specially adapted exercise bikes or floor pedals, residents can 'virtually' cycle through thousands of locations spanning Rome, Tel Aviv, London and Singapore from the safety of their own residence.
The three-month trial has been backed by representative bodies Care England and National Care Forum.
Motitech said it sees huge value in giving care home residents to partake in enjoyable physical activity and immerse themselves in the outside world while self-isolating during the Covid-19 pandemic.
"We have noticed that the care industry is very supportive of the Motiview concept which is currently being used in 433 facilities across the world," said chief business officer Stian Lavik.
"These are exceptionally uncertain times for all of us at the moment, and during a period where many older people and people with dementia aren't able to go outside, it is vital that we can help not just residents, but also key care staff maintain a state of normality," he added.
Via simple and clear instructions, video-link or phone, Motitech's tech team will provide step-by-step instructions on setting up and using the system.
For more information on how to get in touch with Motitech to trial Motiview visit https://motitech.co.uk/contact.
Other News