Discrete Heat reiterates thermal skirting advantages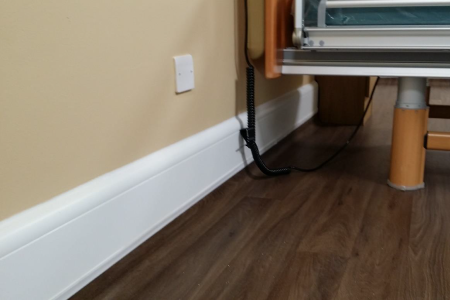 Discrete Heat, the UK manufacturer of the ThermaSkirt heating system, has reiterated the advantages of hygienic heating products amid the Covid-19 pandemic.
Managing director Martin Wadsworth said the company's EasyClean LST (low surface temperature) version of ThermaSkirt is a safe alternative to LST radiators and underfloor heating.
Thermal skirting is in effect a radiator that is built into the skirting board. Fitted all around the room at a low level, it radiantly heats the room like underfloor heating but much more quickly and responsively, the company claims.
The EasyClean LST incorporates a flexible vinyl lip for complete integration into vinyl floors and a hygienic tamper-proof top that seals to the wall.
This allows the heating system to be thoroughly cleaned when the floor is mopped without the need to lift and lower protective LST covers.
"LST radiators have long been the default solution for many decades, but recent initiatives in infection control have highlighted that their grilles slots and internal spaces as a major breeding ground for healthcare-acquired infections," said Wadsworth.
"With the coronavirus being an airborne infection and one that also can survive on hard and warmed surfaces for some time, the need to increase the frequency of disinfection can be the difference in preventing an outbreak in a closed environment like a care home or assisted living facility," he added.
Wadsworth continued: "Hard-pressed cleaning and maintenance staff simply don't have the time to comply with AHCP (Association of Healthcare Cleaning Professional) guidelines that stipulate that radiators and covers should be deep cleaned at least every month."
Developed in co-operation with the NHS, several national care home providers and the Design in Mental Health Network, more than 13,000 ThermaSkirt systems have been installed in the NHS, healthcare and assisted living projects.
Other News