Bespoke by Evans launches specialist care bedding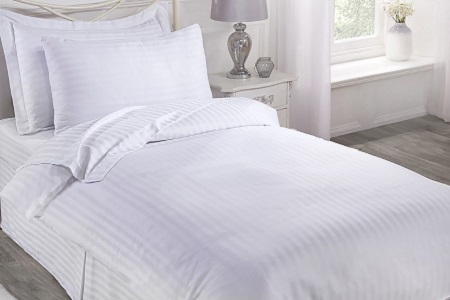 Manchester textiles company Bespoke by Evans has launched a new range of specialist bed linen for care homes and the wider healthcare sector.
The new bed linen consists of two choices: polycotton and flame-retardant linen.
The range is available in standard colours of white and cream in single, three-quarter and double. Duvet covers, pillowcases, flat, fitted sheets and valances are all available to order and can be delivered in as little as 24 hours.
The duvet covers and pillowcases have been specifically designed to be enveloped rather than buttoned for ease of use to launder the items and the linen can be washed to thermal disinfectant temperatures.
"NHS infection prevention and control guidance suggests that bed linen should not be shared and laundered at certain temperatures as to reduce the spread of the virus – with that in mind, we believe care homes may now, more than ever, need to consider new, fresh bed linen and we want to ensure they have an option during this difficult time," said national contracts manager Jackie Sullivan.
Bespoke by Evans said the Covid-19 pandemic has put strain on bedding supply lines throughout the globe.
"Where suppliers may have sourced product from the Far East initially, there is now fragmented supplies and slow lead times which could result in a delay to provide care homes with necessary new, fresh bedding," said Sullivan.
"The good news is that we've recently developed polycotton bed linen which is high quality, low in cost and available from stock immediately."
Other News