Sheffield start-up snags £350,000 for smart tech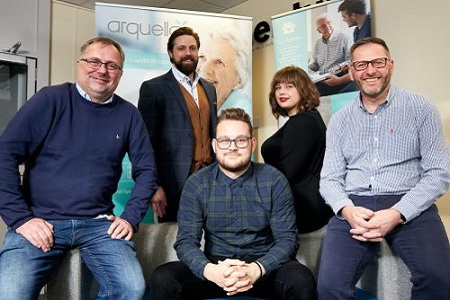 Arquella has secured £350,000 from Northern Powerhouse Investment Fund to develop and market an advanced nurse call system for care homes.
The Sheffield start-up's AURA hardware and AIDA data platform is designed to replace pager systems with the latest digital technology to save time for staff and improve the quality of patient care.
The AIDA platform collects data and displays it on a dashboard and can also be integrated with other IT systems and generates reports to provide evidence that the home is complying with the Care Quality Commission standards.
"Care staff are already overworked and we can't continue to put them under pressure," said Arquella chief executive Paul Howell (pictured front row, on right).
"Instead, we need to provide tools that release them from the administrative burden to deliver great care. That focus is at the heart of our innovation pathway," he added.
Arquella was founded in 2017 and employs five people supplying nurse call systems to care homes and providing engineering support.
The investment is from the NPIF – Mercia Equity Finance, managed by Mercia and part of the Northern Powerhouse Investment Fund.
Other News