Virus protection integrated into reclining bath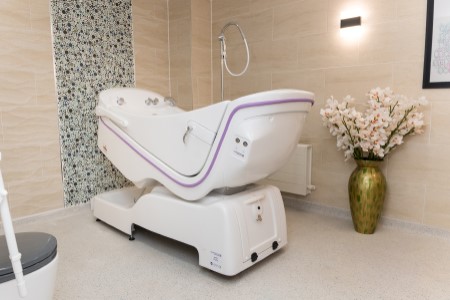 Gainsborough Specialist Bathrooms, a specialist UK bath manufacturer, has introduced BioCote antimicrobial protection into its popular Sentes reclining bath. Infection control is a key element within project implementation, so vulnerable bathers and caregivers benefit from added protection against harmful Superbugs. Gainsborough has the ability to integrate BioCote into its power-assisted baths, which now includes the Sentes reclining bath.
Biocote antimicrobial protection consists of silver-ion technology which is integrated during the GRP manufacturing process, therefore, providing 99.9% 24/7 protection against an array of harmful microbes including Influenza H1N1, E.coli, Salmonella and antibiotic-resistant CPE, CRO, CRE, VRE and MRSA. BioCote cannot be wiped or worn away and hence enhances hygiene management and reduces the possibility of cross-infection. Previously its hi-lo Gentona bath provided this feature whereas now bathers using the Sentes can also benefit.
Peter Eckhardt, Gainsborough Healthcare Group CEO, said: "The introduction of BioCote Superbug-beating technology into our Sentes reclining bath once again reaffirms our position at the forefront of the care industry. As highly respected manufacturers we have a duty of care to vulnerable bathers to protect them from harmful microbes and the risk of infection. The Sentes is a popular choice in the acute sector through its intuitive and ergonomic design – with the addition of BioCote, I'm sure this demand will grow. Gainsborough solutions continue to be the considered choice for CQC excellence, outstanding care and safer moving and handling."
See more about Gainsborough Healthcare Group
Other News