It's 2020 and time to improve your care quality. Ditch your paper care recording!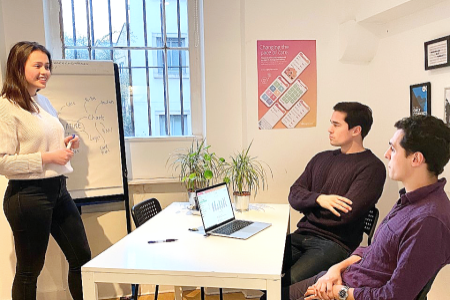 Sam and Yulee from Log my Care to talk about the brand-new module "Groups".
Times are extremely busy at the office in central London, as we're dedicated to our customers and their experience and working tirelessly to reach our goals.
1. Hello to you both! First, I'd like the readers to know more about you and your roles at Log my Care.

Sam: Hello! My name is Sam. I'm the founder of Log my Care. I set up the business in 2017, based on previous experiences I had in the care software market and really seeing how it needed better technology. I didn't think the right tools were out there, and that's how LMC was born!

Yulee: I'm Yulee a User Experience Designer at Log my Care. I joined because I really love the difference we make in people's lives. I also enjoy being able to work so closely with Care Managers and Carers, they're so enthusiastic about what we're working on and always honest with their feedback.

2. Log my Care has received more than 50 five stars reviews just on Google, and several awards. What makes LMC so loved?

S: We set ourselves apart because we passionately care about the brilliant design and listening to our customers to iterate and continuously improve our software until it is so user-friendly that it requires zero training. Apart from the quality and usability of our product, our support is often cited as a real strength in reviews - we're a super friendly team and are real people at the end of the phone or webchat. We genuinely want this to work for everyone. We also provide the core system free, which quite a few people can't believe when they first find out.

Y: We really listen to the needs of Care Managers and Carers, whether it's changing the colour of a button or adding a whole new feature in. We want to make sure we've got the best care management system and from a design point of view, we do this by keeping everything as simple as possible.

3. How is your new module "Groups" going to solve the paper care recording problem?

S: Each care service currently sits in its own 'silo' of data. That's been perfect so far for small providers, but our medium-sized groups started wanting us to link together their different services and tie up their separate data silos. The core benefit of our Groups module is to tie up that data and make sense of it across a portfolio of different care services. That could be separate
care homes, agency locations or supported living locations. We want people to be able to access live data and performance across those sites and to be able to have staff work across them seamlessly too.

4. That sounds great! How else will the new "Groups" module change things for larger care services?

S: Big groups have complex structures with compliance teams, operations teams and quality teams. Our groups feature will provide real insights into their services. There's a huge element here of being able to monitor quality performance but it's also the ability to pick up potential issues before they happen. For a big group, that might mean the ability to parachute in help
where needed. Our system will be able to pick up trends months before they would normally be spotted.

Y: We've kept the same principles from our main product. Keeping it as simple as possible, but at the same time, we've tried to make more powerful. You'll get to see a full overview of all the sites/services you own or manage. I'm really excited to see how people use it and get their feedback! We'll always be looking to improve, and it will give them access to new data to support
better outcomes and care delivery.

5. What's your next exciting step? Any chance readers could read more about our long-term plans?

S: I think it's about time we probably do let people know about the next big module in our roadmap! It's been voted on heavily by our existing customers in the features board where our current users can upvote different ideas. The big winner is a medication management system also known as eMar. It will be a separate module but will work seamlessly inside our existing
platform for the safe administration of medication, and real-time visibility of what's been done and what hasn't. There are huge changes coming in dispensation and we're gearing up to help support providers.

6. How is Log my Care breaking down barriers in the care management software market?

S: Our mission is to become the care platform of choice across the care sector. We're trying to be a force for positive change in an industry that still hasn't adopted technology in a widespread way but is desperately in need of a helping hand. We want to be the driver to enable the market to modernise.

Y: It's super easy to get started using Log my Care, you could set up your service in an afternoon or less. We're constantly changing and improving the product from our all the amazing feedback that our customers are giving us. And of course, Log my Care is free!

You can find out more about Log my Care here: https://logmycare.co.uk/

The Log my Care team are working towards releasing the new "Groups" module at the end of March 2020.

You can create your free account right now. Click here
Other News