Time saving digital transformation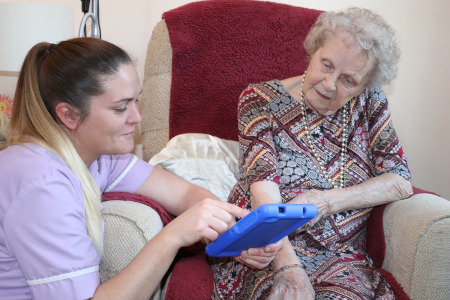 Making the switch from recording care using heaps of paper to the variety of new digitals out here has been one of the innovations of the last decade. Many providers have made the journey and are now recording care using handheld devices saving them time and effort.
A complete audit trail
One of the things that providers can expect to get out of their digital transformation is a much more elaborate and automatized audit trail. With paper, it was most often the case that preparing for audits could take up weeks, and finding documents was harder than actually analysing their data.
Even the older generation systems are not dynamic enough to generate proper reporting and support the ever changing and vivid daily operations of care business.
Any overarching documentation must be structured in a way that automatically creates a compliance overview. This is an important reason to be digital. To communicate freely the data that you both generate and own, to the inspection bodies that you work with.
"Sekoia has been so straight forward to use and reviewing and updating care plans now takes less time than when we were paper-based," Team Leader, Michaela Butcher, explains.
Two studies show: 1,5 hours saved per care worker per shift
Not only Michaela and residential home Birchwood House in Tunbridge Wells have seen this significant change occur. In Stratford-upon-Avon nursing home Quinton House has made a similar discovery. Recording information and observations have never been easier. And this is probably the most important change for frontline staff members.
"From doing something which originally took us five to ten minutes: Two minutes and it's done. And rather than being with paperwork, you're with the residents", Deputy Manager, Kae Pascual, pinpoints.
Both in Warwickshire and Kent, the studies were carried out using the digital care planning company, Sekoia. Going digital has helped overcome a massive paperwork burden, representing 1,5 hours per care worker per shift. This is now cleared during the day, alongside delivering care.
Other News