Burcot Grange rated 'outstanding'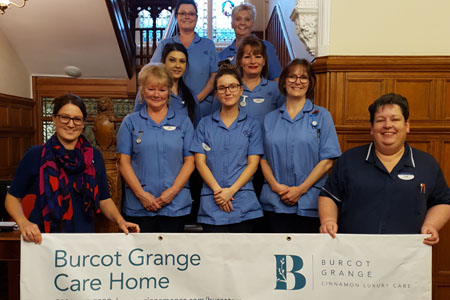 Burcot Grange, a 40 bed luxury care home in Bromsgrove, which is part of the Cinnamon Care Collection, has been awarded an overall rating of outstanding following an inspection by the Care Quality Commission (CQC).
The outstanding ratings were given for being 'caring', 'responsive' and 'well led'.
The report from the CQC highlighted the exceptional 'five star' level of care from all staff and the impressive focus on catering for the individual needs of residents. It singled out the general manager, Vicky Osborne, for her passion and commitment to achieving high standards of care and the importance she placed on forging strong links with the local community and nurturing connections with family, friends and former residents.
The report also stated that "Exceptionally good governance was embedded into the provider and the registered manager's processes" and that best practice was at the heart of the care provided. The inspector was also impressed by the choice of home cooked food and the fact that residents and their families were involved in planning their care and assessing their needs, even choosing the décor for their bedrooms.
Carole Hunt, director, Cinnamon Care Collection, says: "Huge congratulations to Vicky and her entire team who work tirelessly to provide the very best care and support to our residents, ensuring that their safety and individual needs are a priority at all times. Only 3.7 per cent of care homes across the UK are awarded an outstanding rating, so this a very significant achievement."
Vicky Osborne adds "We are absolutely thrilled to have been awarded an 'Outstanding' rating by the CQC. I am so proud of the whole team who always go out of their way to ensure our residents live life to the full and that their individual needs are catered for. I was particularly pleased that many residents, relatives and staff used the word 'family' when describing our services and that the report mentioned the 'genuine relationships' between staff and residents. This is so key to our ethos."
During the inspection, a resident from Burcot Grange commented: "This home is amazing. It's the management and the staff, nothing is too much trouble."
Other News