Young musicians share the music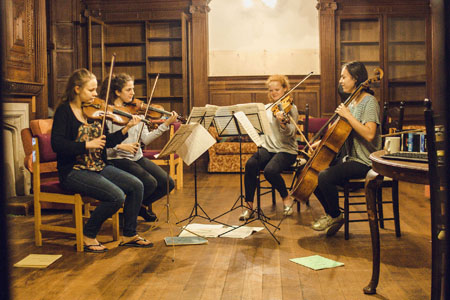 Team members and residents at Sunrise of Westbourne were delighted to receive a visit from a group of talented young musicians for a very special live performance.
The visit was organised by MusicWorks, an organisation founded to provide the highest possible level of chamber music experience for young string players and pianists aged 14-18 years. During MusicWorks courses, students have the chance to explore music masterpieces with guidance from a team of international performers with a passion for chamber music.
To support their pupils in getting to know the music they'll be working on, a few of MusicWorks' teachers took them in to Sunrise to entertain the residents. The students were keen to share their exploration of music as an art form with everyone at Sunrise.
Teachers who accompanied the students included Catherine Manson, the first violinist of the London Haydn Quartet and leader of the Amsterdam Baroque Orchestra, Robert Max, who has played in the Barbican Piano Trio for 20 years and is principal cellist of the London Chamber Orchestra and Krysia Osostowicz, the first violinist of the Dante Quartet and Endymion Ensemble.
Residents greatly enjoyed the chance to listen to the musicians of tomorrow from the comfort of their own community, with many residents having even been regular patrons for the local Bournemouth Symphony Orchestra.
Reflecting on the visit, resident Frank said: "Seeing so many youngsters with so much talent really makes you feel humble," whilst resident Jean commented: "The music transforms you to different times and places. To see the instruments up close and the lovely smiling young faces of the youngsters was magical."
Mark Jones, activities and volunteers co-ordinator at Sunrise of Westbourne, says: "This visit was a wonderful way for our residents to enjoy a musical performance with a difference and was greatly enjoyed by all. We would like to thank MusicWorks for sharing the talents of their young musicians with us and look forward to arranging similar events at Sunrise in the near future."
Other News
Featured Supplier
The Renray range of care home furniture covers the design and specification requirements of all care and nursing homes and includes everything from stylish, designer sofa collections, modern and traditional occasional furniture ranges, through to bedroom and dining furniture.
The increasing need for care home furniture to withstand the...