Take control over the spread of infection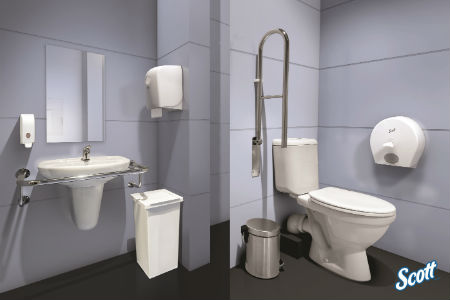 Kimberly-Clark Professional has launched the new Scott Control Toilet Tissue system to complete its Scott Control washroom solution, which is specifically designed for healthcare professionals.
The range also includes the Scott Control Rolled Hand Towel System and the Scott Control Foam Hand Cleanser System. The complete Scott Control washroom solution helps to fight against the spread of germs at every stage of the washroom.
Scott Control Toilet Tissue is dispensed through the high hygiene, one wipe clean Aquarius Dispenser. This sealed unit has no dirt traps. The roll is fully enclosed in the dispenser, which prevents cross-contamination as users only touch the sheet they use, and the roll isn't exposed to airborne germ particles. The flat-to-wall design makes the Aquarius dispenser an excellent choice for use in small spaces. It also has an enclosed lockable system, limiting the possibilities to damage or tamper with the unit.
The new Scott Control Toilet Tissue System has been specifically designed to help control and reduce usage with the new centrefeed format, while providing the highest standards of hygiene. With high capacity 314m rolls containing 1280 sheets, the Scott Control Toilet Tissue System helps reduce refill events freeing up cleaning staff time to perform other tasks.
"The Scott Control washroom solution is an important tool in helping to stop the spread of HAIs throughout healthcare. It encourages good hygiene practice, helping to stop the spread of infection by ensuring hygienic products are in place at every stage of the washroom. With Scott® Control healthcare sites can achieve the highest levels of hygiene, cleanliness and care without compromise," says Simon Justice, healthcare segment marketing manager, Kimberly-Clark Professional.
Other News