Scales with BSA calculation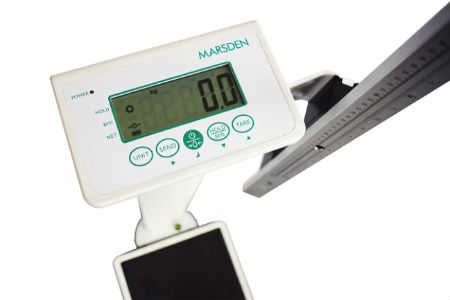 British weighing scales manufacturer Marsden Group has launched a new range of weighing scales with a unique body surface area (BSA) calculation function.
Marsden believes it is the first time BSA calculation has ever been made available on a weighing scale.
BSA is a calculation used to help determine the amount of fluids to be administered intravenously, and the correct drug dosage for a patient, such as drug dosage for chemotherapy.
There are a number of different ways BSA can be calculated. Marsden's new scales use the most commonly used formula, DuBois.
The function is available to three new Marsden scales: a column scale (the Marsden M-125), a floor scale (Marsden M-545) and a chair scale (Marsden M-225). This means one scale can provide a patient's weight, BMI and BSA readings.
Marsden's managing director, Richard Black, says: "Last year Marsden contacted thousands of GPs to find out whether a BSA function would be useful to them on their scales - and the overwhelming answer was 'yes'.
"It will help doctors to calculate dosages of medicine and the amount of fluid to be administered."
Operations Director, Mark Coates, adds: "BSA is already used in NHS DEXA standards to calculate body composition. BMI also features on the new scales, to provide a picture of body health.
"We've never seen a weighing scale with a BSA function, so we believe we've brought something brand new to the market - that will save medical professionals a lot of time."
Other News
Featured Supplier

 

 
DDC Dolphin is a specialist sluice/dirty utility room equipment manufacturer and global supplier with 30 years' experience - providing bedpan washer disinfectors, medical pulp macerators and incontinence macerators to healthcare facilities around the world.
Our design engineers are constantly evaluating the needs of those...
Upcoming Events
The King's Fund, Cavendish Square, Marylebone, London W1G 0AN
22nd June 2021
Liverpool, Aintree Racecourse
13th July 2021
Glasgow, Hampden Park Stadium
9th September 2021
Birmingham, NEC
15-16 September
London, Epsom Downs Racecourse
19th October 2021
Cardiff, Cardiff City Stadium
9th November 2021