Hygiene and care standards delivered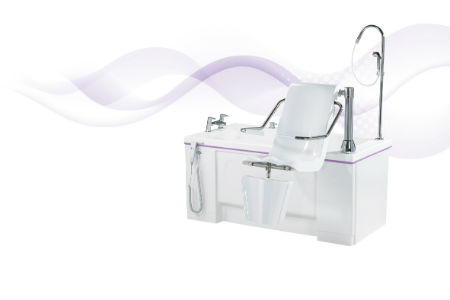 Gainsborough Specialist Bathing is now manufacturing its baths with BioCote antimicrobial technology so that new standards in hygiene and care are delivered.
Gainsborough is regarded as an innovator in care baths with variable height and powered bather transfer seats. These operationally efficient bathing solutions deliver high quality care and reliable performance in today's challenging healthcare environments.
The comprehensive range of Gainsborough baths ensure moving and handling risks are minimised for carers and disabled bathers benefit from improved therapy and dignity. To further enhance the user experience this established manufacturer now includes BioCote technology in all bathing surfaces.
BioCote effectively improves the hygiene levels of millions of products worldwide and significantly reduces cross contamination. The term 'antimicrobial' refers to the resistance of microscopic living organisms called 'microbes'. These microbes are wide ranging and include bacteria, mould and viruses; notable examples are Influenza H1N1, E.coli, Salmonella and the antibiotic resistant CRE, VRE and MRSA.
The presence of these organisms on bathing surfaces can be unhygienic and potentially increase the risk of infection. Gainsborough understands that maximising hygiene and subsequently the health of vulnerable bathers is imperative – hence has introduced BioCote technology into its specialist baths so that these microbes cannot survive or breed on bathing surfaces.

Malcolm Farmiloe, managing director, Gainsborough Specialist Bathing summarises: "Gainsborough is once again taking the lead in raising care levels in the specialist bathing sector. We are excited to be partnering with BioCote, the leader in microbial protection. BioCote is not a new innovation. However, its inclusion in specialist care baths is.
"The latest Gainsborough baths have been independently tested to ensure our manufacturing processes meet international quality control standards and will be continually validated as we move forward. BioCote will further enhance the many operational efficiencies that Gainsborough baths provides as they are proven to lower bathing cycle times and reduce water consumption. With greater protection against harmful microbes, bathers and care providers can rest assured that using a Gainsborough bath will deliver sustainable hygiene 24/7."
Other News
Featured Supplier

 
Fabricus are a market leading supplier of quality high performance long lasting furnishing fabrics to both healthcare and the NHS.
Our signature styles have evolved over the years to encompass a truly timeless and classic collection of beautiful and luxurious fabrics that will transform any interior. Industry experts for over 20 years...
Upcoming Events
The King's Fund, Cavendish Square, Marylebone, London W1G 0AN
22nd June 2021
Liverpool, Aintree Racecourse
13th July 2021
Glasgow, Hampden Park Stadium
9th September 2021
Birmingham, NEC
15-16 September
London, Epsom Downs Racecourse
19th October 2021
Cardiff, Cardiff City Stadium
9th November 2021