Trust in quality and service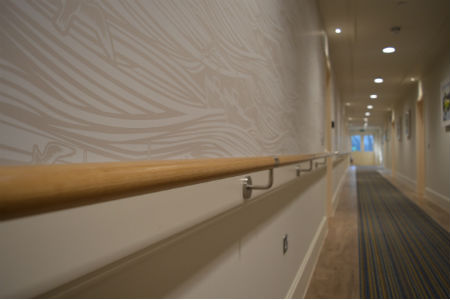 After completing some very successful residential care projects at Victor Hodges Care Home, Southam and Caroline Sharp House, St Albans, Laidlaw Balustrades was called upon again to provide high quality handrail and balustrade packages to care homes.
Two standout projects were Yateley Care Village for Midas Construction and Keble Court for Bouygues UK. Both of these projects are Anchor Group facilities and provide the very highest levels of care for the people of Hampshire.
The Anchor Group is England's largest not-for-profit housing association, providing housing, care and support to people over 55 years old. Founded in 1968, the Anchor Group now employs more than 8,500 people in the UK.
Anchor Group facilities are often very large and feature multiple staircases, balconies, atriums and ramps as well as hundreds of metres of corridor handrails. In addition to demanding a high level of quality throughout, The Anchor Group prides itself on providing user-friendly and fully compliant solutions for residents.
Yateley Care Village is a large facility with many corridors and seven staircases across two buildings. All of these areas were surveyed, designed, manufactured and installed by Laidlaw Balustrades. Laidlaw provided its 40mm diameter brushed stainless steel and oak combination system throughout. The staircases featured clear toughened glass, a wide variety of fixings solutions and a reduced diameter connection between the top-rail and balustrade posts for ease of use.
At Keble Court, the requirement was more unique: a need to consider both patient safety and practicality. A series of semi-circular balconies flood the building with much needed light, but this in turn creates a potential patient safety issue, if patients are left unattended. Therefore it was decided early on, that the curved guardings would need to go above and beyond standard requirements and consequently the balustrades heights were raised to 1.4m high. In addition, perfectly formed stainless steel handrails were offset towards the user, sitting in front of curved glass, softening the design and making the unit less climbable.
Other News