CQC compliance tool for care providers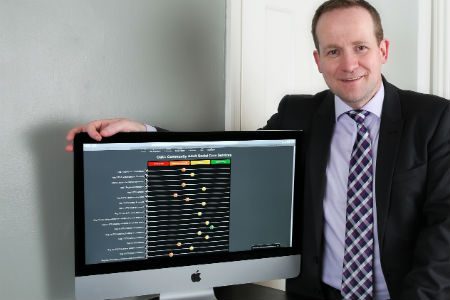 A leading expert in standards for commissioning and providing assistive technology services has launched a cloud-based self-evaluation and compliance management tool that helps care providers more accurately predict their CQC grading before inspections take place.
Brian Donnelly, chief executive of CECOPS, the recognised UK regulator and certification body for assistive technology services, developed the iCOPS software that will also enable CQC-regulated care homes and other care providers to end reliance on out-dated paper-based systems, such as Excel spreadsheets, when preparing for CQC inspections and monitoring efforts to improve care.
The iCOPS tool changes the focus for providers from 'compliance' to 'continuous improvement'.
Using the tool will inevitably help organisations reduce time, cost and effort, at the same time as improving overall outcomes.The iCOPS 'peer-to-peer' technology also raises the possibility of CQC inspectors being able to make remote assessments of care providers, rather than full on-site inspections, in line with the more collaborative and risk-based approach identified for the future by the CQC.
Shelley Watson, a risk and governance adviser to the Care Quality Commission, was so impressed with the technological and collaborative aspects of iCOPS that she described the software as "the best tool I've ever seen for CQC compliance."
iCOPS enables staff responsible for managing compliance and performance to use one user-friendly interface to self-evaluate against CQC standards, identify failings, collate evidence of compliance and plan actions to improve.For example, it enables those responsible for compliance to click and drag a 'button' icon to where on a spectrum they judge their home or service to be on any CQC criteria, to then justify that judgement by adding comments, attaching supporting files or links to external sites, and to then plan actions to build on good practice or tackle issues preventing improvement.
iCOPS can then be used to create a CQC-templated report, and also allows other members of staff – and even CQC officials – to feed into and assess this report via the cloud, so a true 360° evaluation to be taken.
"iCOPS allows care providers to drive their own continuous improvement agenda," says Mr Donnelly. "This is much more than a document store, this is a real tool that delivers real results."
"It allows commissioners and providers to assess performance on a monthly, weekly or daily basis, rather than waiting for an inspection.

"The cloud technology is a significant improvement on an outdated paper-based spreadsheet system, which can be immensely time consuming and difficult to evaluate if a key staff member is off sick, or leaves.
"iCOPS means care providers no longer have to cross their fingers with regards to their CQC rating and care managers will have 'no surprises' when CQC inspectors arrive. That, I think, is a position every care manager and provider wants to be in."
Ms Watson, also a transformation and turnaround advisor for NHS and private healthcare services, says: "I've helped dozens of independent health and care providers and NHS trusts to meet CQC standards.
"However, many used their own in-house system, often using spreadsheets to record information. These are unwieldy, require manual manipulation and producing reports from them is difficult
"iCOPS ends all of this. It's the best tool I've ever seen for CQC compliance."
Mr Donnelly originally developed iCOPS technology for NHS and local authority commissioners and assistive technology services to evaluate their services. But when learning of recent concerns voiced by CQC Chief Executive David Behan on the challenges for inspectors to visit remote care services, and the financial pressure this adds to providers, he immediately recognised iCOPS' potential for the care sector.
"The iCOPS tool fits with CQC's direction of travel, particularly in relation to working in a more collaborative way with providers and taking a more risk-based approach," said Mr Donnelly. "It can streamline assessments and, in some cases, may mean a 'desk-top' remote assessment rather than a full inspection will be all that is required." Reports generated from the tool could even help with provider information requests.
ARC Community Care in Lytham St Annes, Lancashire, which provides care to people in their own homes, has been using iCOPS for several months.Managing director, Andrew Cope, says: "We wanted a tool that would help us to maintain and improve the work that we do.
"Prior to iCOPS we used a spreadsheet to track our progress, recording information on a monthly basis. This system offers a one-stop shop for all key lines of enquiry. It's intuitive and very easy to use. We use it in our management meetings and as a tool not only to be able to prove that we do things but to give us ideas on how we can improve. It will benefit us on our next CQC inspection as all the evidence will be in one place."
iCOPS offers tailored products for all health and care settings regulated by the CQC including residential adult social care, community adult social care, adult hospice care and specialist mental health services.
Other News