Design led acoustic flooring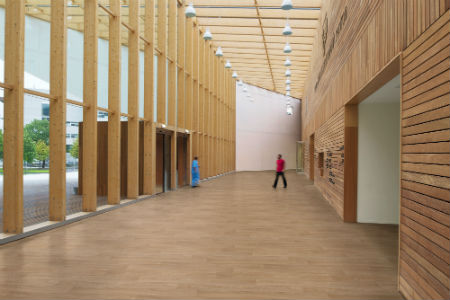 Polyflor has announced the launch of Silentflor PUR, a collection of heavy commercial sheet vinyl flooring with acoustic properties, which is available in a variety of high design wood, concrete and abstract effects.
Silentflor is a robust, beautifully designed collection that achieves 19dB impact sound reduction and has been expertly created for a wide range of commercial interiors, such as the healthcare sector. Made in the UK, this flooring range includes 36 stunning designs in a 3.7mm gauge and 0.65mm wear layer sheet format.
Skilfully portraying the natural beauty of timber planks, the 16 Silentflor wood effect designs replicate a variety of stunning wood species and grains including oak and ash patterns, chevron design floors and limed wood effects. The collection's eight contemporary concrete and 12 abstract designs have been specifically developed to achieve a modern on-trend look. The variety of shades available include subtle neutral tones and stronger accent colours to create an appealing floor covering that is both fun and functional.
The Silentflor range can assist in improving the acoustic properties within busy hospitals, care homes and other healthcare environments where excessive noise can be detrimental to patients, residents, staff and visitors. The product's acoustic layer provides warmth and cushioning underfoot as well as reducing the effects of impact sound travelling through a building, such as the slamming of doors and footsteps from upper levels.
Tom Rollo, Polyflor's marketing manager comments, "With Silentflor we are proud to be able to offer our customers a fresh, new acoustic flooring product which delivers on aesthetics, performance and practicality. This is an ideal choice for those looking to improve the acoustic performance of a healthcare facility and want to make an interior design statement."
The Silentflor collection is enhanced with Polyflor PUR, Polyflor's exclusive and robust polyurethane reinforcement which is cross linked and UV cured to provide superior cleaning benefits. This PUR enhancement offers a cost effective, low maintenance regime that is both environmentally friendly and ensures longevity as poor maintenance can impair performance, shorten floor life and create hygiene problems in critical areas.
Silentflor's environmental credentials are impressive, achieving a BRE A+ rating in major use areas and Indoor Air Comfort Gold, assuring that VOC emissions are below any globally determined levels. Silentflor is 100 per cent recyclable via the Recofloor recycling scheme and also contains recycled content.
Other News