ATADesigns
London

United Kingdom
+44(0)7 939 105661
COMPANY INFORMATION
Designing wall-coverings and murals for the care home sector is an area ATADesigns have been exploring for the past few years. With an ageing population living longer, more and more care homes are being used. Creating a safe and caring environment in a care home is important, and this includes its interiors. I like to think that our wall-coverings and mural designs will play a part in this type of environment.
To help realise this project, Annette Taylor-Anderson of ATADesigns and Gareth Wyn Jones founder of Switchscene Printing, an expert in the field of wallpaper printing have joined forces to collaborate on this project. With Switchscene on board, we are able to offer our customers customisable repeat wall-covering and mural designs printed on specialised vinyl for the healthcare market. We like your residents to feel right at home with our beautifully styled designs.
We (ATADesigns) create the designs, and Switchscene Printing provides fantastic quality printing on great products.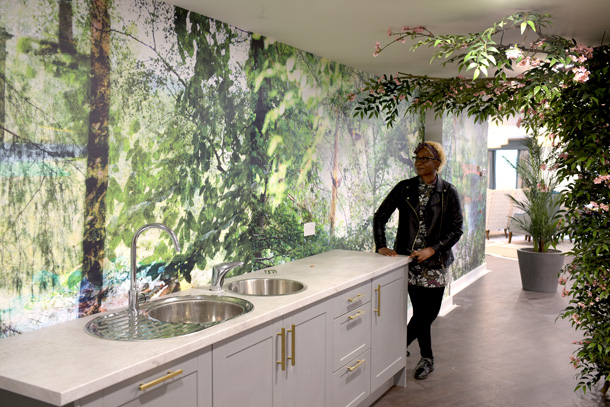 Our speciality is pattern surface design, and we love colour so……
OUR MISSION is to deliver creativity, freshness and boldness into the interior space by introducing our cutting-edge print designs focusing on products for the wall space.
OUR DESIGNS are perfect for livening up the any care home space, whether it be in the corridor, bedroom or social area etc.
OUR BESPOKE DESIGN SERVICE: We provide a unique bespoke design service to help you create and customise designs of your choice and colour-way to suit your personal requirements. All our own designs can be adapted in this way.
WE LIKE TO BRING THE OUTSIDE IN: We specialise in bringing the outside into a design i.e. featuring green spaces or street scenes from a local area. A familiar place to spark a memory.
MAPS FOR INTERIORS: Working in conjunction with a map company offering customised maps for feature walls. These maps are designed to create a talking point, making an instant visual impact to any wall. Adding your own twist with re-colour or style. We can match the colour to suit your project.
If you are looking for a design with a difference, then give us a call.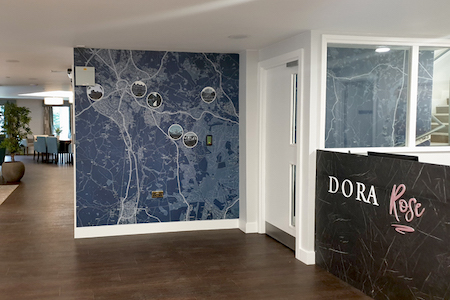 WHO DO WE WORK WITH? We work with a variety of professionals including:
Architects
Interior Designers
Specifiers
Retailers
Developers
Private Customers
COMMISSIONS: If you are interested in commissioning us for a specific project, please contact us to discuss your project further.
ABOUT THE FOUNDER AND ATADESIGNS

Award-winning founder and surface design specialist, Annette Taylor-Anderson set-up her UK brand ATADesigns in 2006. Her work has appeared in both UK and International magazines, and has strong interest from the corporate and retail markets.
Winner in 2011, Annette and Interior Designer Adrienne Chinn were awarded winner of the International Design & Architecture Awards by Design et al magazine for best wallpaper.
Winner of The Solutions Awards 2019 - Solutions for Adding Value - featuring wallpapers and fabrics at the Jones Family Kitchen Bar/Restaurant project
Bronze Winner for FESPA 2020 Printeriors featuring her wallpapers, mural and fabrics at The Northgate Hotel.
As Creative Director; Annette's main focus is on producing pattern surface designs for the interior market, such as hospitality, commercial, residential, retail, healthcare and care home.
With a constant flow of ideas and energy, Annette's inspiration is drawn from everyday surroundings observed from the diversity in culture, architecture, music, and fashion. Her unique pattern surface designs are abstract, sometimes linear, futuristic and funky, and can be seen as a bridge between fine art and textiles. Annette is always in search of new ideas, bringing fresh concepts into each design, making them unique, and can be adapted according to taste and colour-way.
Annette says "We have an Artistic Tailored Approach to Designs" (ATADesigns)
BRAND NEW WEBSITE COMING SOON…
We have a brand new website coming soon for 2021. Featuring new designs, and care home projects that we have worked on. To view our care home projects, please contact us direct.
PRODUCTS AND SERVICES