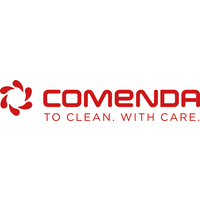 Comenda UK
Digital Media Centre
County Way

Barnsley
S70 2JW
United Kingdom
01226 720768 Mob 07796 940652
COMPANY INFORMATION

At Comenda we have been designing and manufacturing professional dishwashers since 1963. "Hygiene" and "Safety" are our DNA and have been simply our core objective for almost sixty years. Perfect sanitisation is granted across the Comenda range, allowing a significant reduction in the amount of microbial life on the crockery and guarantee safety and hygiene, in full compliance with the Current regulations.
To find out more, download our brochure: https://www.dropbox.com/s/sem01fq71gmb5km/%20THERMOCARE%20UK_HR%20.pdf?dl=0
PRODUCTS AND SERVICES
Featured Supplier

 
Fabricus are a market leading supplier of quality high performance long lasting furnishing fabrics to both healthcare and the NHS.
Our signature styles have evolved over the years to encompass a truly timeless and classic collection of beautiful and luxurious fabrics that will transform any interior. Industry experts for over 20 years...