Care Home Murals
The Old Dairy
Catton Park Estate

Walton-on-Trent
Derbyshire
DE12 8LN
United Kingdom
01283 712171
COMPANY INFORMATION
Care Home Murals design decorative wallpapers exclusively for care homes. We are passionate about our work and finding meaningful ways to enhance care home environments for our customers.
Our murals are more than just beautifully decorative. They have significant purpose and offer many benefits for care home residents, including those with dementia. Content-rich and colourful imagery is carefully crafted to produce murals that engage the viewer, encourage interaction, and help define themed areas within their care home.
Inspiration for our mural designs comes from our customers - care professionals who have a desire and vision to use wall imagery to enhance the environment and day-to-day lives of their residents. Our team of skilled artists, illustrators and photographers have created a range of murals that seeks to meet these aspirations as imaginatively as possible.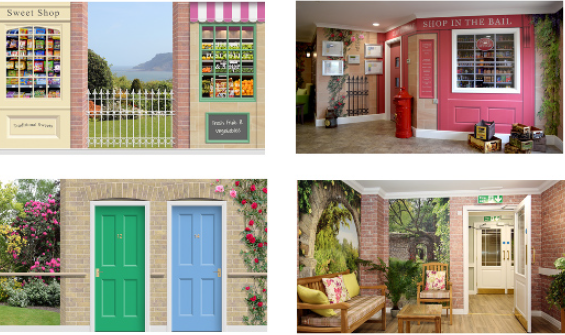 We are developing our new range of Signature Murals specifically to address the increasingly exacting requirements of customers looking for more tailored wall imagery for their care home. Our hand-drawn murals give us greater freedom and flexibility to create murals that realise this vision with more precision and creative flair.
These murals have an approachable illustrative style, using line and colour to produce imagery with remarkable clarity. Familiar motifs and easily recognisable features are cleverly used to suggest rather than represent.

PRODUCTS AND SERVICES