Rinnai helps you to help yourself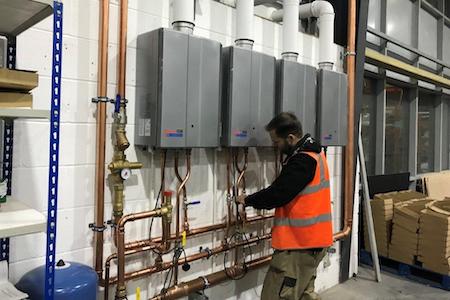 Rinnai is offering all care home sites a 'Help Me Choose' facility via the company's own digital touchpoints.
This service is being emphasised in conjunction with the new year being an ideal time to replace old, inefficient stored water systems that may be causing emergency breakdowns.
Significant operational expenditure advantages, reduced energy costs and carbon reductions readily made make the switch to the hot water continuous flow method. The 'Help Me Choose' facility is accessed by visiting the www.rinnaiuk.com website for instant assistance on choosing the right products to deliver limitless hot water yielding real fuel, energy, and environmental efficiencies.
Rinnai hot water is proven to be temperature controlled and accurate. This feature acts as a thermal disinfectant to any laundry carried out in care homes.
Provided there is a constant supply of gas and water, Rinnai hot water heating units are guaranteed to supply temperature accurate hot water in unlimited quantities for all hygiene regimes in all types of sites.
In addition, Rinnai is offering free surveys and a complete cost comparison report customised to any site needing to update and improve their hot water delivery unit or system.
The reports need basic data from the site – plantroom, current hot water delivery system, demand, number of outlets, peak usage, required temperature of the hot water.
The data is then analysed into a comprehensive report based on the physical and carbon footprint to include life cycle costs – especially initial capital expenditure and, most importantly for the site, operation costs, and any savings.
Rinnai has geared its entire operation to assist all healthcare sites to meet the challenges of the Covid-19 situation. Also new from Rinnai: social distancing aids; 24/7 technical support; 24/7 product and spares availability.
Rinnai is also offering full services for essential works support to care homes during lockdown.
The company has maintained its capability to provider emergency weekend opening and sales support, weekend operational & technical support, collection of new units/spares from its Runcorn HQ for Saturday and Sunday, and collection of new units/spares from Runcorn on Saturdays and Sundays.
Installers can contact the company direct in gaining access to the supply of units by calling 01928 531 870 or emailing [email protected]
Alternatively, use the smart online contact points 'Help Me Choose' or 'Ask Us a Question' on the Rinnai website homepage at www.rinnaiuk.com. See more about Rinnai UK Limited: https://www.thecarehomeenvironment.com/supplier-details/3975/rinnai-uk-limited
See more about Rinnai UK Limited
Other News
Featured Supplier
STJ Projects Ltd provide bespoke joinery solutions to your Care Home projects. Originally a Joinery subcontractor, we have grown and developed our services over time to ensure we meet the needs and requirements of our clients. Our experienced joiners can manufacture and install all manner of timber products, from the construction of a building,...