NCF finds fifth of care beds unfilled as pandemic hits occupancy rates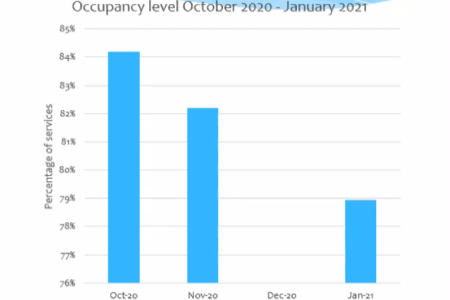 Occupancy levels in not-for-profit care homes in England fell to 79 per cent in January – around 10 per cent lower than the average level in 2019 – according to a survey of National Care Forum (NCF) members.
The poll completed by NCF members operating 1,180 not-for-profit care and support services throughout England found occupancy levels have fallen around five per cent since October.
The NCF said respondents reported an increasingly serious financial picture with 87 per cent seeing an increase in operating costs due to Covid-19, while 75 per cent report a decrease in income.
Only five per cent expect that Covid-19 will not continue to have an impact on their financial position for the rest of 2021.
The financial pressures will "only get worse", said the NCF, due to proposed local authority fee rate increases for 2021-22 seen unlikely to compensate the additional costs for providers.
"Costs are up, income is down, occupancy is declining and many local authorities seem to be struggling to offer fee rate increases that will cover the increase in the National Living Wage," it added.
National Care Forum executive director Vic Rayner added: "The sustainability of many services is coming under significant pressure across the not-for-profit sector. There is a very real concern that providers may not be able to continue to operate existing services and or to invest in new services and innovate for new models of care.
"The long-term funding and sustainability of the adult social care sector should not just be a matter of priority for this government but an essential outworking of their responsibility to the many hundreds of thousands of people who rely on social care for their day to day living and wellbeing."
Other News
Featured Supplier

Imprint Plus™ prides itself on helping businesses connect with their customers in a deep meaningful way. Not only displaying their brand with the right look and feel but also building custom solutions to convey the businesses core values and message. Balancing quality and cost with a custom solution is where Imprint Plus™ has helped 37,000...