Rinnai ready for action during lockdown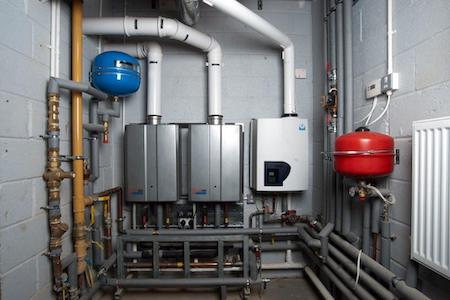 Hot water heating system supplier Rinnai is ready to deliver its continuous flow units to ensure care homes have uninterrupted flows during the latest national lockdown.
The Runcorn company said there have been multiple instances during the Christmas period where continuous flow units and systems have been able to provide uninterrupted flows of hot water to some sites which previously had stored systems that were regularly running out of supplies.
The units – that can now deliver almost 1,000 litres per hour per unit - with precision temperature control for either thermal disinfection or safe use on those users more vulnerable to scalding can be installed rapidly due their light weight, ease of handling and inherent design engineering.
"Any site needing our products urgently can have instant access to them – we deliver direct to site for as long as it takes a courier to travel from our distribution centre to the chosen site. All orders are dispatched within 24 hours on a next-day service basis," said Rinnai operations director Chris Goggin.
"Rinnai also offer a number of essential works services like a system health check should you require support on site, and we are also advocates of using digital camera technology to support on site issues," he added.
Rinnai meanwhile continues to offer 24/7 technical service, product and spares availability, and digital technology aids such as the 'Help Me Choose' facility on the www.rinnaiuk.com website.
The Rinnai services for essential works include its Runcorn UK headquarters' emergency weekend opening and sales support, which is open for any emergency/essential equipment provision of new units and for spares.
In addition, there is weekend operational and technical support helpline. Call 01928 531870 and select sales and if the call is not answered immediately leave a voicemail and the company will respond within an hour. For more information visit: https://www.rinnai-uk.co.uk/contact-us/ask-question/ See more about Rinnai UK https://www.thecarehomeenvironment.com/supplier-details/3975/rinnai-uk-limited
See more about Rinnai UK Limited
Other News
Featured Supplier
STJ Projects Ltd provide bespoke joinery solutions to your Care Home projects. Originally a Joinery subcontractor, we have grown and developed our services over time to ensure we meet the needs and requirements of our clients. Our experienced joiners can manufacture and install all manner of timber products, from the construction of a building,...